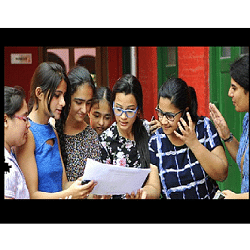 Results for the first semester examination of Uttar Pradesh Diploma in Elementary Education (UP D EL ED) 2017 have been declared at its official website.
While the 1.89 lakh candidates appeared for the exam, around 1.42 lakh candidates have cleared the first UP DELED first semester exam.
How to check UP D EL ED Result 2017?
Step 1: Visit updeledinfo.in.
Step 2: Click on 'Click Here For D. El. Ed first semester result 2018' option
Step 3: Fill in the required details and check the result.
Eligibility Criteria for the exam
Age
General: Candidates should be between 18 and 35 years.
Reserved Categories: The upper age limit is 40 years.
Physically Challenged: For the candidates who are physically challenged, the upper age limit is 50 years.
Educational Criteria
The candidate appearing for the exam should be a graduate from a recognized University. Students pursuing graduation are not eligible for the course.     
Subjects covered under the course
There are many subjects covered under the course.
First year:
Education and principles of teaching
The psychological basis of Child Development
Teaching subject: Hindi, Environmental Studies, Social Studies, Mathematics, Sanskrit/Urdu, English
Cognitive Aspects: Moral Education, Physical Education, and Music, Art
Psycho-Motor Aspect: Class Teaching, Curriculum Analysis
Macro teaching
Second year
Emerging Trends of Elementary: Education and Education Evaluation, School Management, Community Education and Health Education.
Teaching Methods, work experience, and Relevant Practical work: Hindi, Environmental Education, Science, Social Studies, Mathematics, SUPW, Sanskrit/ Urdu, English.
Cognitive Aspects: Physical education and music.
Psychomotor aspect: classroom teaching, school experience (internship) Community work and Action research, Analysis of Curriculum and textbook.
Practice Teaching, Internship, Relevant Practical work.
School Experience, School Management.
Teaching Methods, Text Book Analysis etc, Work Experience.
About Diploma in Elementary Education
Diploma in Elementary Education is a professional compulsory course of two years. The course can be done by all the aspirants who wish to work as a government employed a teacher in government colleges and institutes in Uttar Pradesh. Through this course, a candidate becomes eligible to teach the students from Class 1 to Class 8.