Results : University of Allahabad
News

From University of Allahabad
University of Allahabad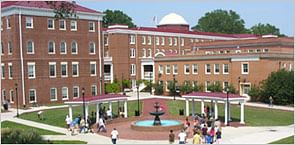 Allahabad University was established in the year 1910. The history of Allahabad University is very unique for its education. In 1892-93 the University began to invest some capital in the Government Securities. In 1899-1900 its reserve fund amounted to Rs. 34,000.

The University was thus now in a position to construct its own buildings. In 1909 the present site was selected for the Library, the Senate House and the Law College. These buildings, which now house the Registrar's Office, Senate Hall and the English Department, were designed by Sir Swinton Jacob and their construction was approved in 1910.


The foundation of the Senate House was laid on 17th January 1910 by Sir John Havett, the Chancellor. From the beginning the University has focused more and nore on women's education. It purchased houses for women's Hostel and College at the cost of Rs. 66,286 and other buildings adjoining the College.

Subsequently, the P.C. Banerji Hostel, the K.P. University College and the Diamond Jubilee Hostels were constructed. A few years back the Tara Chand Hostel was constructed. The Muslim Boarding House (popularly called Muslim Hostel) is the oldest of all these hostels for it was constructed in 1896-97. In this millenium year, the University of Allahabad completes more than a hundred and thirteen years.


Amar Ujala Results website aims to cater to the latest Board, University and Sarkari Naukri Results; along with the latest notifications, on Admit Card, Answer Key, Counselling dates and Career/ Exam Preparation tips. Register on Amar Ujala Results Website for fastest results on UP board, Uttarakhand board, Jharkhand board, Himachal Pradesh board, Haryana board, AP (Andhra Pradesh) board, WB (West Bengal) board, and Gujarat board exams.
© 2022-23 Amar Ujala Limited. All Rights Reserved.