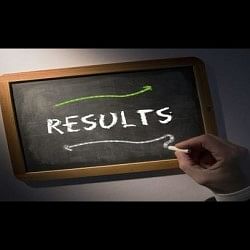 MPBSE D El Ed (1st, 2nd Year) result has been announced by the Madhya Pradesh Board of Secondary Education. 
D EI Ed exams were held in June 2018. Candidate can check the result online. The result is now available on MPBSE's official website. 
How to check the MPBSE  D El Ed Result?
The simple steps to check MPBSE D El Ed Result is given below. 
Step 1: Visit mpbse.nic.in.
Step 2: Go to the result section. 
Step 3: Click on the desired options below:  
Diploma in Elementry Education (D.El.Ed) - IInd Year  Chance-I Examination Result June- 2018  
Diploma in Elementry Education (D.El.Ed) - Ist Year  Chance-I Examination Result June- 2018  
Step 4: Enter the roll number. 
Step 5: Click on Submit option. 
Step 6: The result will pop up on the computer screen. 
About MPBSE
MPBSE, established in 1965, has the power to regulate, supervise and control school education in Madhya Pradesh. 
Its responsibility is to conduct examinations, especially for state-level High School Certificate (HSC or Class 10) and Higher Secondary School Certificate (HSSC or Class 12).
Important Instructions 
Candidates are advised to go through the result sheet and check his/her personal details carefully. 
Result published on the website is just for immediate information to the candidates.
Note:
Neither NIC nor Board of Secondary Education, Madhya Pradesh is responsible for any inadvertent error that may have crept in the results being published on NET. The results published on NET are for immediate information to the examinees. 
About D EL Ed
The abbreviated form of Diploma in Elementary Education is D EL Ed. The D El Ed programme is a specifically designed package for inservice untrained teachers working in primary/ upper primary schools of different states of the country. The programme has been developed by the Academic Department, NIOS on the initiative of Ministry of Human Resource Development (MHRD), Govt. of India, keeping in view the NCF 2005, RTE 2009 and NCFTE 2010. The Programme aims at enabling the target group to develop in them skills, competencies, attitudes and understanding to make teaching and learning more effective.
As per the NCTE Gazette Notification dated 23rd August 23 , 2010 it is stated that:
The following categories of Teachers appointed for Classes I to VIII prior to date of this Notification need not acquire the minimum
qualifications specified in Para (1) of the gazette notification:
(a) A teacher appointed on or after the September 3, 2001 i.e., the date on which the NCTE (Determination of Minimum
Qualifications for Recruitment of Teachers in Schools) Regulations, 2001 (as amended from time to time) came into force,
in accordance with that Regulation.
Provided that a teacher of class I to V possessing B.Ed. qualification, or a teacher possessing B.Ed. (Special Education) or
D.Ed. ( Special E ducation) qua lification s hall un dergo a n N CTE r ecognized 6 -month s pecial p rogramme o n elementary
education.
(b) A teacher of class I to V with B.Ed. qualification who has completed a 6-month Special Basic Teacher Course (Special BTC) approved by the NCTE.  
Related Articles

on Results Alert