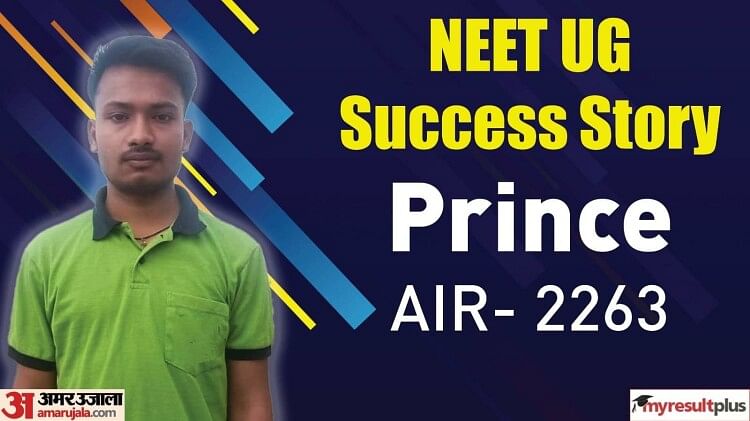 NEET Success Story: Prince has secured 675 marks in NEET, with a Category Rank of 656 and an All India Rank of 2263. Prince is hopeful of getting admission to an allied AIIMS. Prince's achievement of pursuing an MBBS from AIIMS not only brings joy to his family but also fills the village with happiness.
Prince's Success Story
If hard work is done in silence, then success makes noise. While studying in such silence, the dream of Prince's parents and family has been fulfilled in Fatehpur village of Talav Panchayat, Khatauli Kota. Prince will become the first doctor from this village, which consists of approximately 150 houses.

Prince's father is an agricultural labourer, and his mother is an Anganwadi worker. Initially, Prince's father, Laxmichand, used to work at a medicine shop and believed that their lives would be successful if their son became a doctor and people purchased medicines based on his prescriptions. However, due to the family's deteriorating condition, they had to give up the shop, and Laxmichand became an agricultural labourer.
 
Scored 583 Marks in the First Attempt
Prince shared that his early education was completed in Khatauli. He then enrolled in a school in Etawah for the 11th grade, which required him to travel approximately 25 kilometres every day. Sometimes, he had to wait for hours for buses. Prince studied under the Rajasthan Board in Hindi Medium and achieved a score of 93.17 in 10th grade and 96.20 in 12th grade. He initially prepared for NEET at home and scored 583 marks in his first attempt. However, he realised that if he had received coaching, his results might have been better. Unfortunately, the family couldn't afford coaching fees.

During his search for options, Prince spoke with several people, some suggesting he go to Kota and others advising him to continue studying in his hometown. During this time, he received a 90 percent fee waiver and accommodation from a prominent institution in Kota. Due to these provisions, he studied diligently, resulting in excellent marks this year, and now he believes he will secure admission to an allied AIIMS.
 
Need to Study to Save Money
Prince shared that when his teachers informed him that passing the NEET exam was a requirement to become a doctor, he began studying with determination. He understood that scoring below a certain threshold would result in exorbitant fees. Considering the financial constraints faced by his family, Prince set a goal for himself to secure admission to a Government Medical College and worked hard to achieve it.
 
Power Failure Hindered Studies
Life in the village was characterised by poverty. The challenging circumstances included frequent, both short and prolonged, power failures. During these instances, one had to resort to studying by the light of a torch. Despite the unfavourable conditions, my father never allowed me to become disheartened. He always encouraged me, saying, "Continue your studies with passion; you aspire to become a doctor." Motivated by his words, I wholeheartedly focused on my studies.
 
Our Dream Came True
Father Laxmichand Dhakad expressed that Prince becoming a doctor is like a dream come true for our family. As a 12th pass individual, I briefly worked at a medical store and had the aspiration for my son to become a doctor. Consequently, I left the shop and currently support my family by working in other people's fields. Many people used to say that education requires a significant amount of money, but I always reassured Prince, telling him to focus on his studies without worrying about the expenses.

Prince achieved exceptional results in all subjects during 10th grade, which further boosted my confidence. Although it was challenging, I managed to fulfil Prince's dream by working in others' fields and earning wages. Additionally, Prince's mother is an anganwadi worker. Since Hindi was the medium of instruction and Prince's admission to Allen was slightly delayed, he dedicated himself day and night to covering the syllabus.
 
Studied by Watching YouTube
Prince shared that during his 12th grade, he faced difficulties understanding how to prepare for NEET. In such circumstances, he persistently requested a smartphone from his father. His father managed to arrange the necessary funds and get him a smartphone. Prince utilised this opportunity to watch educational videos on YouTube and grasp the concepts of various subjects. This approach contributed to his ability to achieve good marks. Now, with the goal of pursuing an MBBS, Prince aims to specialize in surgery, particularly in the Cardiology and Neurology branches, which he finds appealing.