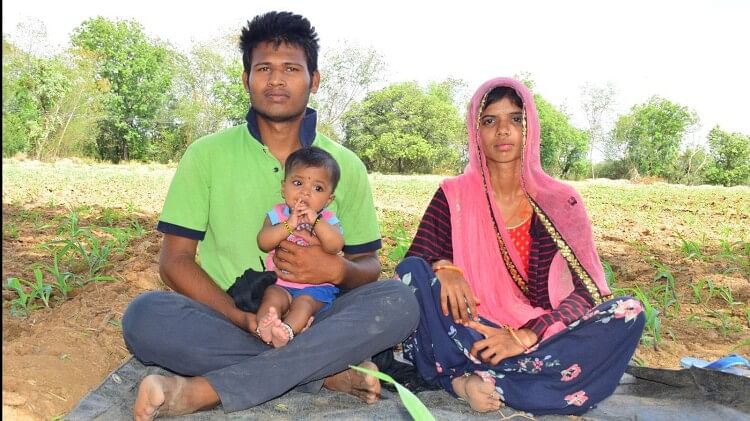 NEET Success Story: Child marriage poses a societal challenge, extinguishing the dreams of children. Yet, Ramlal Bhoi of Ghosunda, Chittorgarh district, Rajasthan, defied the odds. Unyielding in his desire to become a doctor, he persevered through every hardship. Ramlal secured 632 marks, with a Category Rank of 5137 and All India Rank of 12901.
Ramlal's Success Story
Ramlal Bhoi has cracked NEET, becoming the first doctor in the family. Despite facing challenges since childhood, including getting married at age 11, Ramlal continued studying. Society's backward thinking made it difficult, and even Ramlal's father opposed further education after 10th grade. However, Ramlal's determination prevailed. With support from a friend's father and a loan, Ramlal pursued his studies relentlessly. Finally, on the fifth attempt, Ramlal achieved success. Now, Ramlal aims to enter politics and serve the public.
 
Wife Left Her Studies
Ramlal said, "If I were to get married at my current age, I would oppose it too. But back then, I had no idea what was happening. I was enjoying myself while the wedding took place. I was just 11 years old, studying in 6th grade, and my wife was the same age as me. About six years ago, she started living with my in-laws. Despite completing her studies up to the 10th standard, education isn't highly valued in our society. Although she wanted to continue studying, she selflessly sacrificed her aspirations for my education and took care of her responsibilities towards my in-laws. As I focused on preparing for the NEET exam, despite facing challenges and not being selected, we had many arguments. However, she supported me, driven by my passion. Our daughter was born six months before the NEET UG 2023 exam."
 
Didn't Know About Neet
"Despite the family's weak financial condition, I managed to pass the 10th class with 74 percent marks from the village government school. Accompanying a friend, I went to Udaipur to pursue agriculture but discovered that biology and the NEET exam were the paths to becoming a doctor. Continuing my education, I completed class 11th and 12th with Biology as my subject. During that time, I resided in the free-of-cost Ambedkar Hostel, run by the Social Welfare Department."
 
Ran Away from Home to Study
Despite people asking, "What will you do after studying?" and having illiterate parents, I faced opposition from my father, who didn't want me to continue education beyond the 10th standard. Facing physical punishment, I took the bold step of running away from home and securing admission in Udaipur. Fortunately, after my friend's father intervened, my father agreed to support my education. In 2019, I achieved a remarkable 81% in the 12th class.
 
Poor Financial Condition
Our kutcha house stands by the Bhedach river in Ghosunda, Chittorgarh district, Rajasthan. The roof is adorned with keluwe nuggets. While we have an electricity connection, it frequently goes out. Water is sourced from the government tap in the village. My father, Ganesh Bhoi, plows fields for others, and my mother, Kamla Devi, sells farm fodder in Chittorgarh daily. They both possess labor cards and take up work whenever available. Alongside my parents, we are a family of five siblings, with two sisters already married.
 
Education and Support
In 2019, I attempted NEET for the first time while in 12th grade and scored 350 marks through self-study. In my second attempt in 2020, I obtained 320 marks, but my passion to become a doctor remained strong. I took NEET again in 2021 and achieved a score of 362. Encouraged by my school teachers, I was advised to join a Kota Institute as they believed in my potential to crack NEET. Despite my father's financial constraints, I managed to come to Kota and saw a significant improvement, scoring 490 in NEET 2022. Determined, I continued preparing for NEET 2023 while living in a rented room in Kota.
 
Son Opened His Eyes
Father Ganesh Bhoi acknowledged that our society undervalues education and holds strong biases against educating daughters. However, our son's emphasis on the importance of education has led him to pursue a career in medicine, bringing us immeasurable happiness. The society and villagers now recognize Ramlal's unwavering determination as he fulfills his dream of becoming a doctor. With five children, our younger daughters are currently focused on their studies, and we are committed to ensuring their access to quality education. Two of our daughters have already been married.
 
Ramlal serves as a remarkable example of unwavering determination. Despite facing opposition from child marriage and his family, he persisted in pursuing his goal and ultimately achieved it. We are fortunate to have been part of Ramlal's success, and he will undoubtedly become an inspiration for society as a whole.