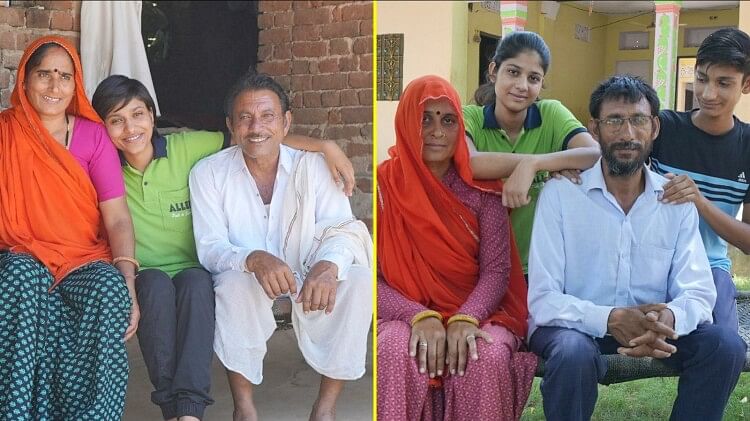 NEET UG 2023 Success Story: Ritu and Kareena, daughters of shepherd brothers from Nangal Tulsidas village, have become the first doctors in their family. Despite challenging circumstances, they overcame failures with strong determination. Ritu secured 645 marks, with an AIR of 8179 and a category rank of 3027 in NEET Exam 2023. Kareena scored 680 marks, achieving an AIR rank of 1621 and a category rank of 432. Their journey is a testament to struggle, hard work, dedication, and sacrifice. Ritu cracked NEET in her second attempt, while Kareena succeeded on her fourth attempt.
Fulfilling Family Needs through Goat Rearing
Brothers Nanchu Ram Yadav and Hanuman Sahay Yadav live separately with their families in Jamvaramgarh, near Jaipur. Ritu's father, Hanuman Sahay, has completed 10th grade, while her mother, Sushila, has completed 8th grade. The family owns around 8-10 goats, which they graze daily. They sustain their livelihood by selling goat milk and kids. Nanchuram and his wife Geeta, who are illiterate, also own a few goats and a cow-buffalo, selling its milk. Both wives work in nearby fields. Ritu's house is made of stones, while Kareena's house is still under construction. They rely on ration cards for food, making do with temporary arrangements to fill their stomachs.
 
Illness of Both Brothers
Already facing economic difficulties, Ritu's father Hanuman Sahay Yadav developed a problem in one eye in 2002. Despite a laser operation, his visibility remained at only 30 percent. In 2011, he encountered an issue in his other eye, resulting in complete loss of eyesight. This prevented him from working, leaving goat rearing as his only option. Meanwhile, the other brother, Nanchu Ram Yadav, is currently undergoing radiotherapy for lung cancer.
 
Ritu Completed Schooling in Maternal House
Due to the family's financial situation, both sisters attended a government school until the 8th grade. Ritu pursued her studies at a private school while living in her maternal grandfather's house for the 9th and 10th grades. She then completed her 11th and 12th grades at a private school in her own home. Ritu achieved remarkable scores of 85 percent in 10th grade and an impressive 97.2 percent in 12th grade. Kareena, on the other hand, studied at her own home and achieved 81 percent in 10th grade and 83 percent in 12th grade.
 
Not Afraid of Failure
After completing her 12th standard in 2021, Ritu pursued self-study and made her first attempt at NEET in 2022, scoring 515 marks. Impressed by her performance, her uncle brought her to Sikar and secured her admission to ALLEN, where her fees were waived off. Meanwhile, Kareena passed her 12th grade in 2019 and made subsequent attempts at NEET. She scored 440 marks in her first attempt in 2020, followed by 545 marks in 2021, and 559 marks in 2022. Recognizing her dedication, her uncle also enrolled her in ALLEN Sikar, where she received fee concessions.
 
Uncle's Teaching for Siblings
Ritu's family includes her parents, a brother, and a sister, all of whom possess exceptional intelligence. Anshika, her sister, is currently pursuing the 12th grade with a focus on agriculture. Aditya, her brother, recently completed the 10th grade, securing an impressive 88.7 percent overall. Notably, Aditya scored a perfect 100 in Science and 98 in Maths. Their uncle plays a crucial role in teaching and guiding them.