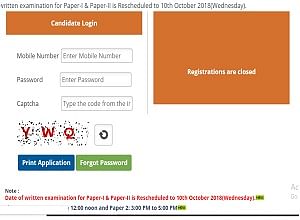 Telangana Panchayat Secretary Examination Date has been changed.
Earlier it was supposed to be conducted on October 4, now the exam will be held on October 10, 2018.
The notification has been released on the official website of Telangana Panchayat Secretary i.e
tsprrecruitment.in
The website notifies that:
Date of written examination for Paper-I & Paper-II is rescheduled to October 10, 2018(Wednesday).
Time Paper 1: 10:00 AM to 12:00 noon and Paper 2: 3:00 PM to 5:00 PM
Written Examination (Scheme):
Paper-1:
General Studies and Mental Ability, Culture and History of Telangana
Total questions:
100
Duration:
120 minutes
Maximum marks:
100
Paper-2:
Telangana Panchayat Raj Act, 2018, Rural Development Programmes, Other Government schemes including Government of India and Government of Telangana.
Total questions:
100
Duration:
120 minutes
Maximum marks:
100
The Job Description:
The Junior Panchayat Secretary shall discharge the duties and perform the responsibilities assigned to the Panchayat Secretary under Telangana Panchayat Raj Act, 2018 (Act.No.5 of 2018) and any other Duties and responsibilities entrusted by the Government, Commissioner, PR&RE and District Collector from time to time.
Procedure of Selection:
the selection of candidates for appointment to the posts will be made by examination (objective type) based on OMR. The final selection for the post will be based on total marks secured in the written examination of Paper-I & II.
1.
The applicants will be subjected to written examination of Paper-I and Paper-II of Objective Type and the final selection will be made based on the total marks secured in all the (02) papers in the respective categories duly following the Rule of reservation.
2.
There will be penalty for wrong answers marked in the objective tests of Paper-I & II. For each question for which a wrong answer is given by the candidate, one fourth (1/4) of the marks assigned to that question will be deducted as penalty to arrive at corrected score. If a question is left blank, i.e., if no answer is marked by the candidate, there will be no penalty for that question.
3.
Marks secured in Paper-I and Paper-II will be counted for preparation of Merit list.
4.
All the vacancies are district specific. Candidates will be selected as per vacancies available in district, nativity, merit and reservations. Non-local quota candidates will be given the preference according to their merit for district opted by them subject to the availability of vacancy.
5.
The appearance in all papers in the Written Examination as per rules is compulsory. Absence in any paper/ papers will automatically render his/her candidature as disqualified.
The detailed information is available on the website.   
Related Articles

on Exam Alerts