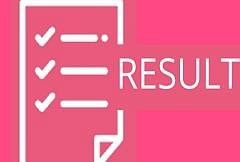 Tripura Madhyamik result has been released by the Tripura Board of Secondary Education (TBSE). The result is available on the official website of TBSE. The result of Madras Alim exam has also been released by the board. The exams were held in March 2019.
Here is the direct link to download the result:
TBSE-Madhyamik-Madrasa-Alim-Result-2019.htm
Highlights of Higher Secondary (+2 Stage) exam 2019 were released on June 6, 2019: (Result in abstract provisional):
- Period of Exam: March 1, 2019, to April 3, 2019
- Total no. of candidates enrolled: In 2018 total no. was 25523 which were increased by 6.56% this year (2019) that is 27197.
- The total number of candidates appeared: In 2018 the total number was 25443, in 2019 it was increased by 6.73 with 27155.
- Total no. of candidates appeared (Gender wise):
- Male: 13906
- Female: 13249
- Total: 27155  
Related Articles

on Results Alert