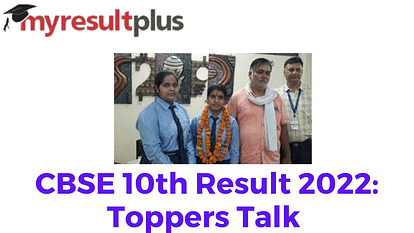 CBSE 10th Result 2022:
The Central Board of Secondary Education (CBSE) declared the CBSE 10th result 2022 on Friday, July 22. Aiming to prevent unhealthy competition among students, the board has refrained from releasing toppers list this year for both Class 10 and Class 12. However, the schools have shared the data of the students who have captured the top spots in CBSE Board exams 2022. Diya Namdev, a student of Scottish International Public School, Shamli, has clinched the first rank by scoring a perfect score of 500 out of 500.
Born to parents Pushpendra and Babita, Topper Diya aspires to enroll into the Indian Institute of Technology (IIT). Diya, while talking to the media, stated that she dedicated 7 to 8 hours to studying daily. She added that she did not resort to taking tuitions and going to coaching institutes, but has bagged the accomplishment by means of self-study.  
Diya said that she was sure of securing 95 percent marks in the exam, but was quite elated when she was crowned the topper with 100 percent marks. She has attributed her success to all her teachers and her family members.  
In order to dispel the monotony induced due to prolonged studying sessions, Diya listened to Bollywood songs and played Badminton for brief periods of time. She likes to read Harry Potter stories too.  
Despite owning a mobile phone, she has kept social media at bay. Prime Minister Narendra Modi's special 'Mann ki Baat' acted as a motivational booster for her, which propelled her progress in the field of academics.  
It is noteworthy that Diya has a twin sister too, named Riya, who also appeared in the CBSE Class 10 exams 2022. She ended up securing a total of 80 percent marks in the exams.