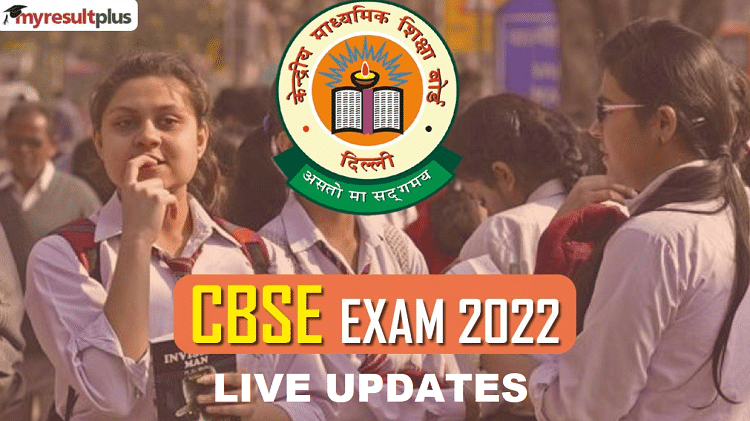 As the evaluation process for the CBSE class 10th and 12th examination is almost complete, the nearly 35 lac students who have appeared for the CBSE board exams are eagerly awaiting the result of their term 2 examinations.
Several media reports are claiming that the results for the Class 10th are expected to be released today, July 4 but according to an CSBE official, it is highly unlikely that the result will be declared today. Futhermore, she added that, student are advised to regularly keep updating themselves about the results from the official website as CBSE result will only be declared after the release of official notification.
It is expected that both class 10th and class 12th result will be declare in mid-July.
CBSE Board 2022 Result Live
CBSE Board Results 2022: Class 12 Previous 5 year topper List
 Year  
Pass Percentage
Topper Name
Topper Percentile
2021
99.37
Hiteshwar Sharma
 99.8
2020
88.78
Divyanshi Jain
100
2019
83.4 
Hansika Shukla
Karishma Arora
99.8
2018
83.01 
Meghna Srivastava
99.8
2017
82.02
  Raksha Gopal
 99.6
CBSE Board Results 2022: Class 12 Previous 5 year Pass Percentage
Class 12th Results 2022: Previous Five years Statistics  
| | | | |
| --- | --- | --- | --- |
|   Year   |  Student Appeard   |  Students Passed   |  Pass Percentage   |
| 2021 | 13,04,561 | 12,96,318 | 99.37% |
| 2020 | 11,92,961 | 10,59,080 | 88.78% |
| 2019 | 12,05,484 | 10,05,427 | 83.40% |
| 2018 | 11,06,772 | 9,18,763 | 83.01% |
| 2017 | 10,76,760 | 8,32,536 | 82.02% |
CBSE Board Results 2022: Know Date and time for Class 12 Results
The CBSE Board has concluded the class 12th On June 15. The Board results for class 12 is expected by the end of July.
CBSE Class 10th, 12th Results: Board expected to Declare Results After July 15
CBSE is yet to announce any official updates about the results but speculation are being made that the results will be declared after July 15.
In a statement given to media by Sanyam Bhardwaj, Controller of Exams for the CBSE, "The board is on track to advance the schedule. UG admission schedule of different institutions are kept in mind and CBSE (is) in touch with the concerned authorities to protect the interest of its students."
CBSE Board Result 2022: CBSE Tweets Fake New Alert
CBSE has tweeted a fake new alert about a notification circulating over the internet regarding final results calculation in 30:70 model.    
CBSE Results 2022: Steps to Register on Amar Ujala's MRP website
Step 1: Visit the registration page of Amar Ujala: results.amarujala.com 
Step 2: On this page, you will find the link that reads 'CBSE Class 10th/ 12the Result 2022 - Register Here'. Click on the link for which you want the results.
Step 3: After clicking on the desired link, You will have to enter the required details i.e :
            Name
            Roll Number
            Mobile Number 
            Email
           
Step 4: Click on the submit button. You will receive an OTP on the registered mobile number.
Step 5: Once the verification is complete, You will get the result on your mobile as soon as the result is declared.
 
CBSE 10th Results 2022: Register on Amar Ujala's MRP website to get the Results Directly on your Mobile
For faster and easier access to results for the students of CBSE Class 10th and 12th 2022,  Amar Ujala has developed a webpage where the students can register themselves and avail their results as soon as the results are declared. The result for the registered students will be available even if the official website goes down due to any technical error.
 
CBSE 10th Results : Board Refutes Media Reports
According to official, the Evaluation process is still underway. CBSE official refutes the media claims of result declaration on July 4th, 2022.
CBSE Class 10th Results : Topper List
 Year  
Pass Percentage
Topper Name
Topper Percentile
2021
99.40

Amrutanshi Mohanty

Dhruvi Singh

Kushagra Mishra

Sriram Patnaik

 99.8
2020
93.31

P. Harini 

Shirija Chhabra 

99.8
2019
91.1

Ankur Mishra,

Apoorva Jain Vatsal

Aryan Jha 

Bhavana Sivadas

Divjot Kaur Jaggi

Divyansh Wadhwa

Manya

Ish Madan

Taru Jha

Shivani Lath 

Siddhnt Pengoriya 

 Vatsal Varshney

Yogesh Kumar Gupta

99.8
2018
86.07

Nandini Garg 

Shreelakshmi G

99.8
2017
93.06
 Mridula Subramanyam
99.6
CBSE 10th Result 2022: Previous Year Pass Percentage
CBSE 10th Result 2022: Previous Year Stats  
| | | | |
| --- | --- | --- | --- |
|   Year   |   Student Appeard   |   Students Passed   |   Pass Percentage   |
| 2021 | 18,73,015 | 17,13,121 | 99.04% |
| 2020 | 18,73,015 | 17,13,121 | 91.46% |
| 2019 | 17,61,078 | 16,04,428 | 91.10% |
| 2018 | 16,24,682 | 14,08,594 | 86.7 |
| 2017 | 16,25,967 | 15,09,383 | 93.12% |
CBSE 10th Result 2022: Step to Check Results
Student can check the results upon declaration on the official website @cbse.gov.in by following the simple steps:
Visit the official website of CBSE @cbse.gov.in
On the homepage, you will find a link that read' Class 10th/12th results. Click on it.
Enter the required credentails like Roll Number, DOB, Security pin, etc.
You result will be displayed on the screen. Thoroughly check if all the details are correct.
Download the Result pdf and take a printout of the same for future references.
CBSE 10th Result 2022: Steps to Check Result via SMS
Once the result is declared students can also get the results on their mobile phone via SMS. To get the get via SMS use the following steps: 
Type an SMS in this format: cbse10  
Now send this message to a number: 7738299899.
CBSE Class 10 term 2 result will be sent as an SMS on the same number
CBSE 10th Class Term 2 Results 2022: Alternative methods to get Result
CBSE Students can get their reuslts through SMS and by using the Digilocker: 
Step to Check Result In Digilocker: 
Vsiti  the digilocker.gov.in
After the result is announced, On the Homepage you will find a link to check CBSE 10th scores
Login with required credentails i.e Roll Number, DOB etc
You result will be available on the screen
CBSE 10th Result 2022: Websites to Check CBSE Results
Upon the declaration of the results students can check their results by following website:
cbse.gov.in
cbseresults.nic.in
results.gov.in
CBSE 10th Result 2022: Student Awaits Results
Almost all the major boards of India have already declared the board results or are almost done with the results Decalartion. CBSE Students are in a turmoil as university across India have began the addmission process
CBSE 10th Result 2022: Board Launches a One Stop Portal
The CBSE has launched an one stop portal "Pariksha Sangam," on July 2,2022.  According to the official website, this platform serves as a one-stop platform for all exam-related activities. No updates about the declaration has been made on the newly launched portal.
CBSE 10th Result 2022 Live Updates: Board Refutes Media Reports, Results Not Today
The Central Board of Secondary Education has conducted the Class 10th from April 26th continuing till May 24, 2022,  While the CBSE Class 12 board exam also started on 26th April and was conducted for 51 days and these examinations were completed on June 15, 2022.