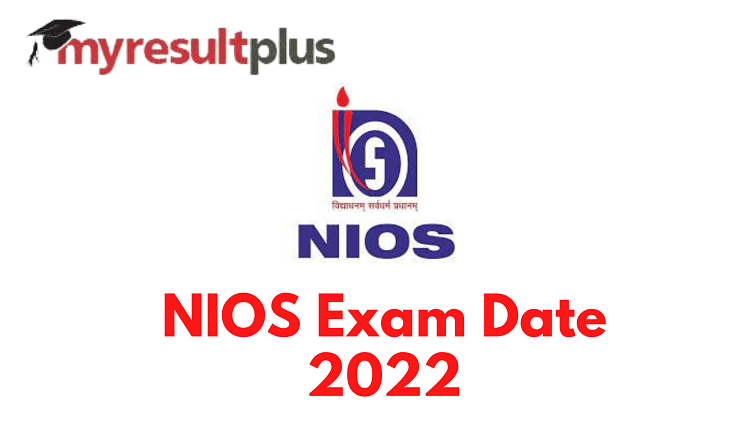 NIOS Date Sheet 2022:
The National Institute of Open Schooling (NIOS) has released the NIOS date sheet 2022 for theory exams scheduled for October and November 2022. Students about to appear in the said exam can check the official date sheet from the official website of NIOS at sdmis.nios.ac.in. The exam dates have also been mentioned herewith for students' reference.
NIOS Exam Date 2022:
The date sheet for the practical exams had been released earlier by the board, on August 22, 2022. The practical exams for NIOS matriculation and Intermediate students shall take place from September 16 till October 1, 2022. Meanwhile, the theory exams will commence from October 12 and will end on November 23, 2022.  
The exam time table for both Class 10 and Class 12 students has been mentioned below.  
NIOS Class 10 Exam 2022: Dates
Date of exam
Name of subject
October 12, 2022

Hindustani Music
Indian Sign Language

October 15, 2022
October 17, 2022
October 18, 2022
October 19, 2022
October 20, 2022

Bengali
Telugu
Kannada
Marathi
Gujarati
Punjabi
Assamese
Nepali
Malayalam
Odia
Arabic
Persian
Tamil
Sindhi

October 21, 2022
October 28, 2022
October 29, 2022

Painting
Sanskrit Vyakaran

November 3, 2022
November 5, 2022

Psychology
Sanskrit Sahitya

November 7, 2022

Indian Culture and Heritage

November 9, 2022
November 10, 2022
November 17, 2022
November 18, 2022

Employability Skills
Entrepreneurship
Carnatic Sangeet

November 19, 2022

Business Studies
Bhartiya Darshan

November 21, 2022
November 22, 2022

Certificate in Basic Computing(theory)
Cutting and Tailoring
Dress Making
Beauty Culture and Hair Care
Beauty Therapy
Hair Care and Styling

November 23, 2022

Hand and Foot Care
Bakery and Confectionary
Certificate in Desktop Publishing
Certificate in Indian Embroidery
Certificate in Yog
NIOS Class 12 Exam 2022: Dates
| | |
| --- | --- |
| Exam date | Name of the subject |
| October 12, 2022 | Sanskrit, Early Childhood Care and Education |
| October 15, 2022 | Employability Skills and Entrepreneurship, Environmental Science |
| October 17, 2022 | Home Science |
| October 18, 2022 | Hindi |
| October 19, 2022 | Urdu |
| October 20, 2022 | Psychology |
| October 21, 2022 | Geography |
| October 28, 2022 | Physics, History, Library and Information Science, Sanskrit Vyakaran |
| October 29, 2022 | Bengali, Tamil, Odia, Gujarati, Punjabi, Arabic, Persian, Malayalam |
| November 3, 2022 | Economics |
| November 5, 2022 | Chemistry, Political Science, Mass Communication, Military Studies, Sanskrit Sahitya |
| November 7, 2022 | English |
| November 9, 2022 | Painting (Theory) |
| November 10, 2022 | Data Entry Operations |
| November 17, 2022 | Mathematics |
| November 18, 2022 | Business Studies |
| November 19, 2022 | Computer Science, Physical Education and Yog, Sociology, Bharatiya Darshan, Tourism |
| November 21, 2022 | Biology, Accountancy, Introduction to Law, Military History, Veda Adhyayan |
| November 22, 2022 | House keeping, data entry operations, web development, CRM domestic voice |
| November 23, 2022 | Food processing, preservation of fruits and vegetables, web designing and development, computer hardware assembly and manit, Yog Assistant |
Link to official website:
sdmis.nios.ac.in