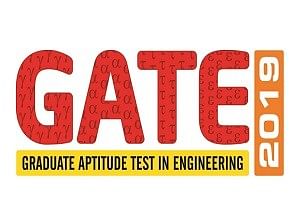 Graduate Aptitude Test in Engineering (GATE) 2019 registrations have begun.
Interested candidates can register themselves on the official website of GATE
Graduate Aptitude Test in Engineering (GATE) is an examination conducted jointly by the Indian Institute of Science (IISc), Bangalore and the seven Indian Institutes of Technology (at Bombay, Delhi, Guwahati, Kanpur, Kharagpur, Madras and Roorkee) on behalf of the National Coordination Board (NCB)-GATE, Department of Higher Education, Ministry of Human Resource Development (MHRD), Government of India.
Important Dates:
GATE Online Application Processing System (GOAPS) Website Open: September 1, 2018
Closing Date for Submission of (Online) Application: September 21, 2018
Extended Closing Date for Submission of (online) Application: October 1, 2018
Last date for requesting a change of examination city (an additional fee will be applicable): November 16, 2018
Admit Card will be available in the online application Portal (for printing): January 4, 2018
GATE 2019 Examination (Forenoon: 9am to 12 noon (tentative)), (Afternoon: 2pm to 5pm (tentative)): February 2, 3, 9, 10
The announcement of the result in the online application portal: March 16, 2018
Eligibility Criteria for GATE 2019 
BE/BTech/BPharm:
Bachelor's degree holders in Engineering/Technology (4 years after 10+2 or 3 years after BSc/Diploma in Engineering/Technology)
BArch:
Bachelor's degree holders of Architecture (5 years course)
BSc (research)/BS:
Bachelor's degree in science (post-diploma/4years after 10+2)
Pharm D (after 10+2):
6 years program, consisting of internship or residency training during the sixth year
MSc/MA/MCA or equivalent:
Master's degree in any branch of Science/ Mathematics/ Statistics/ Computer Application or equivalent
Int. ME/MTech (Post-BSc):
Post BSc integrated Master's degree programmes in engineering/ technology (4-year program)  
Int. ME/MTech or Dual degree (after diploma or 10+2):
Integrated Master's degree program or dual degree program in engineering/ Technology (5 years program)
Int MSc/ Int BS-MS:
Integrated MSc or 5 years integrated BS-MS program
Professional Society Exam (equivalent to BE/BTech/BArch):
BE/BTech/BArch equivalent examinations of Professional Societies, recognized by MHRD/UPSC/AICTE (e.g., AMIE by Institution of Engineers-India, AMICE by the Institute of Civil Engineers-India and so on)
Other Details:
IIT Madras is the organizing institute for GATE 2019.
Information website for GATE 2019 is gate.iitm.ac.in
GATE 2019 will be conducted on 24 subjects (also referred to as "papers").
Examination for all the 24 subjects (papers) will be conducted as an online Computer Based Test (CBT).
The online examination paper will contain some questions for which numerical answers must be keyed in by the candidate using a virtual keypad.
Rest of the questions will be of Multiple Choice Question (MCQ) types.
The Candidates will use ONLY an on-screen virtual calculator provided for the examination.
Application fee:
Application Fee for Female candidates: Rs 750 before September 21 and after that Rs 1250
Application Fee for SC/ST/PwD category Candidates: Rs 750 before September 21 and after that Rs 1250
All other candidates: Rs 1500 before September 21 and after that Rs 2000
The candidate is expected to appear in a paper appropriate to the discipline of his/her qualifying degree.
The candidate can also choose any other papers of GATE 2019, however, it is better to choose a paper in line with the eligibility criteria of the institutions/organisations in which he/she wishes to seek admission/job.