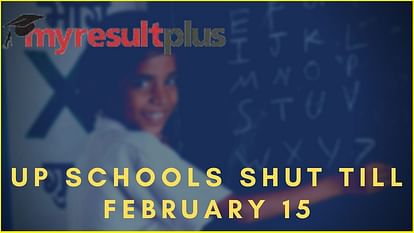 UP Board 2022:
The reopening of schools in Uttar Pradesh has been deferred again, this time till February 15, 2022, in wake of the snowballing Covid-19 cases in the state. The UP state government landed on the decision to further extend the closure date of schools and colleges in the state till February 15. Until then, academic activities will advance in the online mode for all classes, as per schedule.
It is noteworthy that earlier the state government had declared the closure of schools in UP till January 23, 2022, which was then extended till January 30. In view of the subsequent mutations of the Omicron variant of Covid-19 and its rapid transmissibility, the pandemic situation is worsening in the state, which is halting other usual activities in the state as well, apart from education.
The IANS (Indo-Asian News Service), taking to Twitter, shed light on the extension of school shutdown in the Uttar Pradesh state on Thursday, January 27, 2022. However, it must be noted that no official announcements have been made in regard to the suspension of classes in the colleges of the state.
Until now, the state government has always issued orders for the shutdown of both the schools and colleges in UP. However, this time, due to no official update on college operations in the state, the college students are advised to wait for an official announcement.
Some reports also suggest that classes were being conducted online in UP due to upcoming UP Elections 2022. Due to the same, the students of the state who have been engaged in State Board Exam preparations are seeking an update on the exam schedule as well. However, the UP government is still tight-lipped about the schedule of the state board exams.
Major Covid clusters have been formed in the state capital Lucknow, which has reported 3,000 cases in the last 24 hours. Other districts of UP which have reported a spike in Covid-19 cases include Gautam Buddh Nagar and Varanasi.