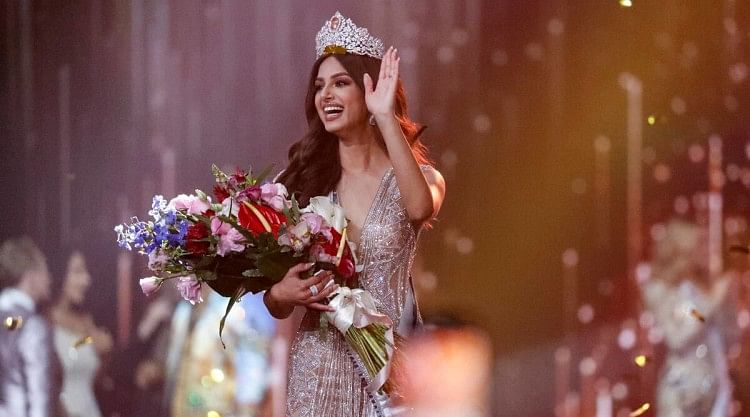 The Chandigarh based model Harnaaz Sandhu has brought the most precious crown of Miss Universe 2021 home. The 70th Miss Universe competition took place at Universe Dome, Eilat, Israel on 12th December 2021. Contestants from 80 countries and territories participated in the competition with the intention to bag the title of Miss Universe 2021. Along with Harnaaz, Nadia Ferreira from Paraguay secured the second position and Lalela Mswane from South Africa settled at the third position. 
The entire nation today celebrates the glorious victory of Harnaaz at the 70th Miss Universe 2021. The predecessor of the Miss Universe crown, Andrea Meza from Mexico presented the crown to Harnaaz Sandhu. The first Miss Universe title for India was won by Sushmita Sen in 1994 and the second crown was brought home by Lara Dutta in 2000. An interesting fact is that when Lara Dutta bagged the Miss Universe title in 2000, Harnaaz was born in the same year at Chandigarh. She carried out the legacy and made the entire nation proud today. Since the beginning of her career, Harnaaz was acclaimed for her talent many a time. 
Harnaaz Sandhu's Achievements
Miss Universe 2021: Winner
Miss Diva 2021: Winner
Miss India Punjab 2019: Winner
Miss Max Emerging Star India 2018: Winner
Miss Chandigarh 2017: Winner
Harnnaz Sandhu's Educational Background and Career

She completed her schooling level education and college at Mohali city, Chandigarh. Harnaaz completed her schooling at Shivalik Public School and college from the Post Graduate College for Girls, Chandigarh. Sandhu was fond was acting and modelling since the beginning of her career. She also worked as a leading actress in Punjabi films like "Yaara Diyan Poo Baran" and "Bai Ji Kuttange". 
 
Related Articles

on Current Affairs