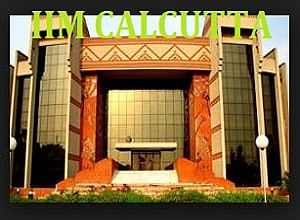 Two case studies published by the IIM Calcutta Case Research Centre have won awards in the 2017 edition of the European Foundation of Management Development case competition, an IIM(C) statement said here today.
The awards were announced earlier this month, the statement said.
In the inclusive business models category, sponsored by the Institute for Management Development, the IIM Calcutta team of Prof Indranil Bose and student Gaurav Gupta won the award for their case 'SIMsePAY at YES BANK: Creating Value Through an UnSmart Innovation.'
Bose, also the coordinator of IIMC Case Research Centre, said SIMsePAY, as it is popularly called, was remarkably innovative for its simplicity, applicability and timeliness.
"I am sure this unique case study on 'Digital India' will be read, analysed, and appreciated by students of management institutions around the world as well as practitioners who are interested in launching innovations in an emerging economy, he said.
The second case study "Switchon O'nergy: Social innovation challenges at the bottom of the pyramid" by Prof Ramendra Singh and student Menaka Rao won the award in the sustainable business models category.
About the second case study, Singh said "It is very fulfilling to see hybrid organizations such as 'Switchon-O'nergy' get international visibility through this case study, as India is the headquarter of International Solar Alliance (ISA) that aims at reducing production and development cost of solar products to facilitate higher deployment of solar technologies in remote regions at the bottom of the pyramid."
The director in charge of IIM Calcutta, Prof B N Srivastava said that in line with IIM Calcuttas vision of developing high impact research-oriented output, these two case studies together was a new milestone.
"I am happy that their effort has been recognised by a reputed international agency, which will motivate more colleagues to double their effort in fulfilling our vision.
IIMC Case Research Centre (IIMCCRC), a Centre of Excellence, was founded in June 2012 to develop a repository of cases.
IIMCCRC develops India specific case studies of the highest quality that are used by educational institutions and industry practitioners, the statement said.  
Related Articles

on Career Diary