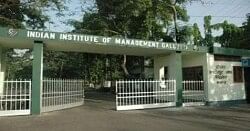 IIM Calcutta
has achieved 100 percent placement for its 2016-2018 batch within a span of over two days with the consulting sector emerging as the top recruiter, according to a release.
A total of 481 offers were made by 131 firms of which nearly 50 percent were from the consulting and finance sectors, the release said.
Consulting stood as the top recruiter covering 27 percent of the total batch with Accenture Strategy being the top recruiter, it said.
Financial firms contributed to 23 percent of the total offers with major recruiters being J P Morgan & Co, Bank of America, Merrill Lynch, Morgan Stanley, Bessemer Venture Partners, Goldman Sachs and CitiBank.
Bessemer Venture Partners, the oldest venture capital firm in the US, also visited IIM Calcutta for the first time.
Other major sectors included marketing (16 percent), general management (14 percent), product management and operations (12 percent) and IT and Analytics (8 percent).
Amazon, Aditya Birla Group, Star and EXL were the top recruiters in product management & operations, general management, marketing and IT & Analytics respectively, it said.
Other major firms such as Flipkart, Microsoft, Uber were also among the recruiters.