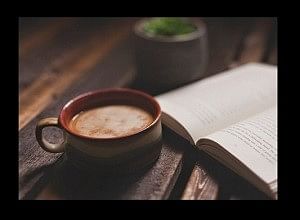 The Kolkata International Book Fair has housed a 'Book Lovers' Cafe' in its latest edition that aims to bring back the joy of reading among young minds, the organisers of the fair has said.
Students from several city schools are taking part in art competition, essay and poetry writing at the cafe which has been set up by power utility company CESC.
Children aged between 10 and 16 years - from schools like St. Joseph's, St. Stephen's, Anjuman Girls High School and Aditya Academy - participated in extempore speaking and quiz on literary works on the first day of the fair which will go on till February 7.
More city schools are expected to take part today and tomorrow, the organisers said.
"This is an unique initiative to encourage young minds exchange ideas and a platform for knowledge sharing," celebrated fashion designer Agnimitra Paul said at the inauguration of the cafe yesterday.
Filmmaker and former journalist Sudeshna Roy said, "The idea behind such a caf is to connect to the youth of today who have fallen prey to the technological advances and have given up reading."
In the face of growing digital media and social networking sites that are feeding on the teenage brains, this initiative gives a thrust to go back to the joy of reading and writing, she said.
The 'CESC Book Lovers' Cafe' is aimed towards helping the young generation re-discover book reading and the joy to smell the fragrance of new books, a spokesman of Publishers & Booksellers Guild, the organisers of the International Kolkata Book Fair said.