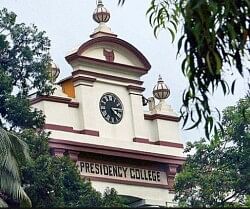 Presidency University, Kolkata, Vice-chancellor Anuradha Lohia has said that not more than 50 seats are vacant in the premier institution, discounting reports that the figure was over 300.
State Education Minister Partha Chatterjee after talking to Presidency Alumni Association had earlier said 300 seats were lying vacant.
"I am telling you not more than 50 seats are vacant. With the first semester already in progress, these cannot be filled up now," the VC told reporters here.
"I will speak to her," Chatterjee said when told about the VC's comments.
On Chatterjee's statement that Presidency University will seek an audit of special government funds allocated to it for its bicentenary celebrations, Lohia said yesterday, "We are ready for any audit."
Asked to comment on many teachers quitting Presidency in the past few years, Lohia said "This too is a misconception. And if four teachers had left for being transferred, 45 new teachers have joined in the past two years. And none reports about that."
The Presidency Alumni Association had said in a memorandum to the education minister last week that many eminent teachers who had joined the institution had to leave.
"It is the talent and richness of the teaching faculty that serves as a prime attraction for students," it said. PTI SUS KK