Home
›
Results Alert
› UP Board Result 2019: Scrutiny Fee Increased 5 Times Than Before
UP Board Result 2019: Scrutiny Fee Increased 5 Times Than Before
News Desk
Updated Mon, 15 Apr 2019 02:23 PM IST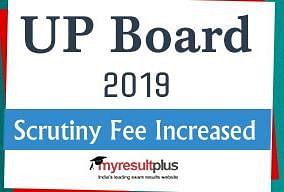 If students in the UP board exams get their copies scrutinized or want to get it re-evaluated, then they have to spend five times more money than before. The fees for scrutiny have been increased five times in the UP board exams.
For the scrutiny of the copies in board exams, Rs 100 per subject was fixed till last year, but now in the new system, the students will be charged a fee of five hundred rupees for this. Apart from this, for the scrutiny of the practical exam, there is a fee of Rs 100 per application, but in the new system, students will also have to deposit a fee of five hundred rupees.


In addition, the prescribed fee for the recognition of schools has increased threefold. For the recognition of schools so far, the fee was fixed at ten thousand rupees, which has been increased to thirty thousand rupees.


Find out every news related to UP Board Class 10th Result 2019 and UP Board Class 12th Exam Result 2019. Register here to see the fastest results of the UP Board High School Result 2019 and the UP Board Intermediate Result 2019 exams.
 
Related Articles

on Results Alert

Latest Result Updates


Amar Ujala Results website aims to cater to the latest Board, University and Sarkari Naukri Results; along with the latest notifications, on Admit Card, Answer Key, Counselling dates and Career/ Exam Preparation tips. Register on Amar Ujala Results Website for fastest results on UP board, Uttarakhand board, Jharkhand board, Himachal Pradesh board, Haryana board, AP (Andhra Pradesh) board, WB (West Bengal) board, and Gujarat board exams.
© 2019-20 Amar Ujala Limited. All Rights Reserved.