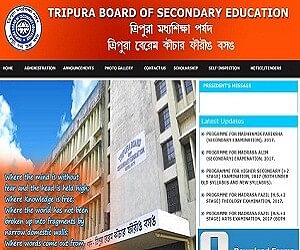 New Delhi
The Tripura Board of Secondary Education (TBSE) is likely to declare the class XII (Science) exam 2017 results on May 20, 2017. The examination started in March 2 with English paper and ended in April.
The results will be declared on the board's official website at 9:45 AM on Saturday.
Students can access their results by following procedure:
Mehtod I (Online Via Website)
Simple steps to check the result:
Step 1: Click on the option below.

Tripura Board of Secondary Education
Step 2: Enter Roll Number.
Step 3: Click on Submit option.
Step 4:The result will pop up on the computer screen.
Method II (Via Mobile)
TYPE TBSE12(space) Roll number (space) and send the message from BSNL number 7738299899 and 54242.
About Tripura Education Board:
Tripura Board of Secondary Education was established in the year 1973 under the Tripura Act. No.12 and named after Tripura Board of Secondary Education Act, 1973 by Tripura Legislative Assembly.
It is a state agency of the government of Tripura, which is responsible for the promotion and development of secondary education, in the state. Most of the public schools of the state follow the TBSE system.
For more details,
click here.