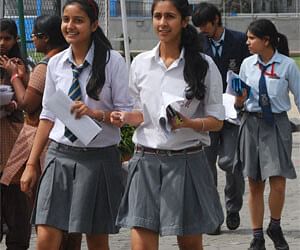 The
Central Board of Secondary Education (CBSE)
is all set to announce its Class XII results on May 27. The students appeared in exam are advised to check their results by submitting their Roll Number/Roll Code as inscribed in your admit card.
Amar Ujala Results have come up with a facility to provide an easy access to your Board Results and your mark sheets as CBSE Board Class 12 results will be out. Last Year the students had to go huffing and puffing to access their CBSE Board Class 10 and Class 12 Results as it was only available on the official website and it got crashed.
But this year we promise you to provide you an easy passage to the Board Results. Hope for the best, keep your fingers crossed and hope for the best. Getting CBSE Board Results have become much easier now. Just preregister and get an instant access to your CBSE Board Results.
You can also download your Virtual Mark Sheet of Board Exam which will be free to download, share and Whatsapp to you friends, kith & kin and loved ones. Just do a small activity, preregister yourself to get your board results and get rid from searching or surfing at the time of announcement.
Preregister to get CBSE Board 12th Results :
To avoid rush and a better access to exam results, We have come up with a facility of "Get Results on your Mobile & Email" where everyone can register to get an easy access to academic results. It is a completely free and easy to access facility where students need to enter their essential information like ; Name, Board Name, Roll No, Mobile No, E-Mail, City and State. Once registered you will be sent an automated confirmation message for the same. When the Board results will be out, the registered users will be communicated their results via mail and mesaage.
Why to wait for so long, just visit our website, clikc on "Get Results on your Mobile & Email" fill some of the informations asked for and find your results on your mobile without any hicup.
Check your CBSE Board Class XII Mark Sheet from here.