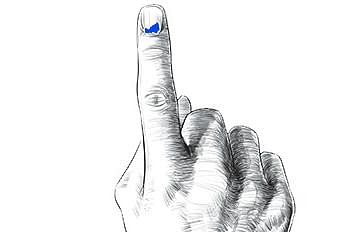 Assembly elections
have worked to warm the atmosphere this winter.
Counting of votes
is going on for the results of elections happened in five states. This major event of democracy was first decided in
1951-52
, when elections were held for the first time since Independence in the country. Let's take a look at how the political equation of Rajasthan and Madhya Pradesh was there 66 years ago.
The 2019 exam is going to begin in which the major part is current affairs, in a bid to keep your self-updated with all 2018 major events you must know about the 2018 election scenario, but before then you need to know about the background of the election happened in Rajasthan and Madhya Pradesh in 1952.
Rajasthan Status in 1952
Assembly elections were held on 29 February 1952 in Rajasthan. Then a total of 616 candidates had the candidacy. There were 140 constituencies in Rajasthan assembly. Also, 20 constituencies with two members and 120 constituencies with one member were there. That is, there were a total of 160 seats in the House.
Total voters in 1952:
92,68,215
How many voters came to vote:
32,61,442 (35.19%)
Congress:
85 won (156 were total candidates)
Akhil Bharatiya Ram Rajya:
24 won (59 candidates)
Socialist Party:
1 won (51 candidates)
Bhartiye Jan Sangh:
8 won (50 total candidates)
Krishikar Lok party:
7 (46 total candidates)
Akhil Bhartiya Hindu Mahasabha:
1 won (6 total candidates)
Non-party candidate:
35 won (230 total candidates)
MP Status in 1952
Elections were held on March 26, 1952, in Madhya Pradesh. A total of 1122 candidates had candidature. There were 184 constituencies and 136 single-member constituencies. That is, there were a total of 232 seats in the assembly.
It is also necessary to state that in the year 1956 after the assembly elections, the merger of Central India, Vindhya Pradesh and Bhopal in Madhya Pradesh under the State Reorganization Act. With this, Marathi-speaking Nagpur was merged with Bombay State. These elections were included as Madhya Pradesh in the 1957 assembly elections.
Total number of voters in 1952:
1,55,13,592
Voters:
69,97,588 (45.11%)
Bharatiya Rashtriya Congress:
194 won (225 candidates)
Socialist Party:
2 won (143 candidates)
Kisan Majdur Party:
8 won (71 candidates)
Akhil Bhartiya Ran Rajya Parishad:
3 won (35 candidates)
SK Side:
2 won (19 candidates)
Independent:
23 won (469 candidates)