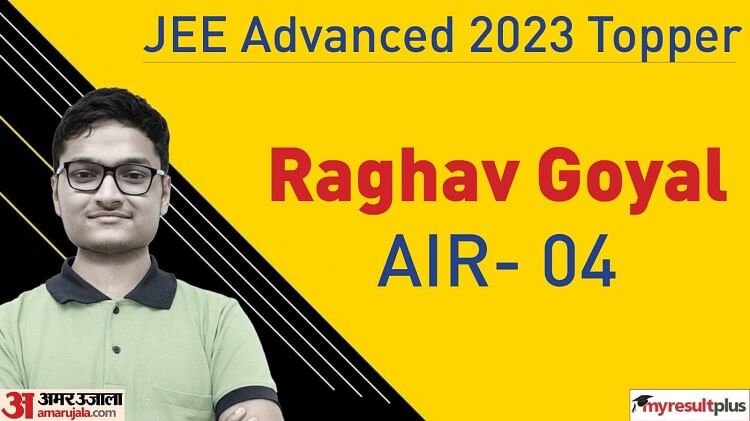 JEE Advanced 2023 Result: The result of the JEE Advanced 2023 has been released. Raghav Goyal has secured the All India 4th rank. Candidates can check the JEE Advanced 2023 result on the official website, jeeadv.ac.in.
Studying with Interest is Success. Raghav Goyal
Raghav Goyal, who secured the All India rank 4 in JEE Advanced 2023, believes that true success lies in studying with genuine interest. With aspirations to start a startup after completing his B.Tech. from the CS branch of IIT Mumbai, Raghav also nurtures a deep passion for mathematics. He attributes his achievements to his unwavering commitment to pursuing activities that truly captivate him, whether in academics, sports, or any other endeavour.

From the very beginning, Raghav set his sights on gaining admission to IIT Mumbai. His academic journey has been marked by exceptional accomplishments, including scoring 99.4% in 10th grade and 97.4% in 12th grade this year. Raghav has also excelled in prestigious competitions such as INMO, INAO, INHO, and INCHO. He represented India in the IOAA held in Georgia, where he earned a gold medal and the Best Solution to the Most Challenging Problem award.

Recently, Raghav was selected to represent India in the upcoming IPHO in Tokyo. Additionally, he has been recognised as an NTSE scholar.
 
Inspired by His Brother
Raghav draws inspiration from his elder brother, Pranav Goyal, who secured the All India Topper position in 2018 as an IITian. Throughout his academic journey, Raghav benefited greatly from his brother's guidance and shared experiences.

Recognizing the importance of self-control in managing social media usage, Raghav limits himself to 10-15 minutes on Instagram during breaks. In his leisure time, he indulges in chess and nurtures a profound interest in music, having pursued it as a subject during his 11th and 12th-grade studies.
 
Also Read:
JEE Advanced Result 2023 Released: VC Reddy Tops, Check Cut Off, Toppers List, How to Check Result