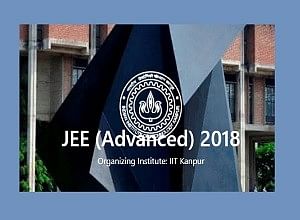 The results for the 2018 Joint Entrance Examination (JEE) Advanced for admission to IITs were announced today with Pranav Goyal from Panchkula in Haryana bagging the top rank, scoring 337 marks out of 360.
The second position was secured by Kota's Sahil Jain while Delhi's Kailash Gupta got the third spot.
Meenal Parekh from Kota in Rajasthan is the topper among girls with 318 marks.
Sahil, whose father is a Physics lecturer, said the second rank came as a surprise to him, even though he had expected his name in the top 10 scorers. 
"I was expected my name in the top 10, but the second position was surprising," he told PTI in Kota. 
"As part of the preparations for the exam, I had shun social media, WhatsApp and other platforms for the past two years. In times of stress, I used to turn to my mother who has always been my pillar of strength," he said. 
Meenal, whose elder sister was selected to IIT Bombay in 2015, said she is on cloud nine ever since the results were announced. 
"I feel on top of the world," she said. 
Minister for Human Resource Development (HRD) Prakash Javadekar congratulated the successful candidates and asked others not to lose their heart.
"Congrats to all candidates who have qualified in JEE (Advanced). Those who could not get results as per their expectations should not lose heart. There is always a next time," the minister said on Twitter.
He also tweeted, "Kudos to @IITKanpur for ensuring foolproof conduct of JEE 2018 exam, first time conducted fully online. A total of 11279 seats are being offered in IITs. 800 supernumerary seats have been created specifically for female candidates to improve gender balance." 
This year, a total of 11,279 seats are being offered in the Indian Institutes of Technology (IITs) and 800 supernumerary seats have been created specifically for women candidates to improve the gender balance in IITs, as per the directives of the HRD Ministry, according to an official statement.
It said as per provisions, the total supernumerary seats created cannot exceed 10 per cent of the total seats being offered in the IITs.
This year, out of the total 1,55,158 students, who appeared for the JEE Advanced on May 20, 18,138 have qualified. Of the total qualified candidates, 2,076 are women.
Many coaching institutes in Kota claimed that 54 of their students featured in the top 100 scorers. 
With the results out, seat allocation will begin from June 15. For the first time, JEE Advanced was held completely in the online mode.
Selected candidates will obtain admission into undergraduate courses, which will help in obtaining a bachelors, integrated masters or bachelor-master dual degree in engineering, sciences or architecture.
Aspirants can attempt JEE (Advanced) for a maximum of two times in two consecutive years.