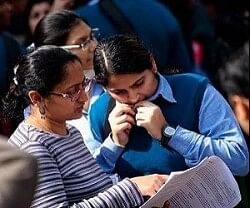 New Delhi
From this year, the Council for Indian School Certificate Examinations (CISCE) has made provision for the candidates to apply for recheck directly through the Council's official website (www.cisce.org).
The provision of applying for recheck of results through the CAREERS Portal by the Head of the School also remains.
The online module for submitting request for recheck of marks will remain for ONLY SEVEN DAYS open from the day of the declaration of results (from May 29 to June 4), pointed out the press of the CISCE.
(CISCE) is all set to announce the results of the Class 12 and 10 board exams on Monday, May 29, 2017.
"Results of the ISC (Class XII) and ICSE (Class X) Year 2017 Examinations will be declared on Monday, 29th May 2017 at 03:00 PM," read a notification on the CISCE's official website.
While the ICSE Class X exam, which was earlier scheduled to begin on February 27 and end on March 31, started on March 10 and was concluded on April 21, the council conducted both class 10 and class 12 examination late this year after the election commission of India declared elections to 5 state assemblies.
About the Council for Indian School Certificate Examinations
The Council for Indian School Certificate Examinations has been so constituted as to secure suitable representation of: Government of India, State Governments/Union Territories in which there are Schools affiliated to the Council, the Inter-State Board for Anglo-Indian Education, the Association of Indian Universities, the Association of Heads of Anglo-Indian Schools, the Indian Public Schools' Conference, the Association of Schools for the ISC Examination and members co-opted by the Executive Committee of the Council.