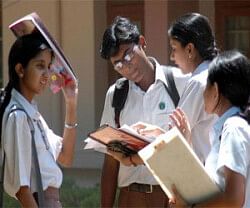 Plus Two students who attempted two "unanswerable" one-mark questions in Tamil medium economics paper of the
board examination
held on March 27 would get two grace marks, the Madras High Court Bench here was told on Monday.
Recording a submission to this effect by the government advocate, a bench comprising Justices S Manikumar and G Chokalingam closed a PIL seeking to constitute a high-level committee of senior post-graduate teachers to study the "improper" setting of the economics paper.
The government advocate produced a fax copy of the Director of Examination's order on the grace marks.
REGISTER FOR BOARD RESULTS :Register to get Board results on Mobile & Email
Petitioner M.Chandran, President of the Madurai District Tamil Nadu PG Teachers'' Association, had submitted that the two questions in Part-A, N0.18 and 20, for Tamil medium students, were totally unanswerable.
He had also said in the last 10 years no question paper had been so tough. The entire question paper was against the Blue Print of the Book Committee.