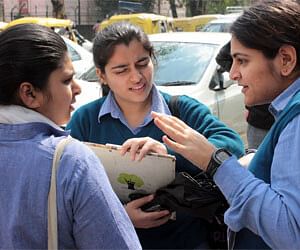 The
Central Board of Secondary Education (CBSE)
is likely to announce its Class 12 results on May 23. This year also CBSE will announce its Board Results for different reasons on different dates. It is expected that CBSE may announce its Delhi and Panchkula region results on May 23.
The students appeared in exam can check their results on our website as soon as it will be published. According to a statement issued by Board "A total of 10,67,900 candidates have registered for the Class 12 exam as against 10,40,368 in 2015 ." The students can check their board results by submitting their Roll Number/Roll Code in the given box.
Delhi (including foreign schools) and Panchkula have registered the highest number of candidates with Delhi on 2.9 lakh for class 10 and 2.7 lakh for Class 12 board while Panchkula registered 2.2 lakh for class 10 and 1.7 for class 12. The CBSE exams started from March 1 and concluded on April 22.
Preregister to get CBSE Board 12th Results :
To avoid rush and a better access to exam results, We have come up with a facility of "Get Results on your Mobile & Email" where everyone can register to get an easy access to academic results. It is a completely free and easy to access facility where students need to enter their essential information like ; Name, Board Name, Roll No, Mobile No, E-Mail, City and State. Once registered you will be sent an automated confirmation message for the same. When the Board results will be out, the registered users will be communicated their results via mail and message.
Why to wait for so long, just visit our website, click on "Get Results on your Mobile & Email" fill some of the information's asked for and find your results on your mobile without any hiccups.
Check your CBSE Board Class XII Results here.