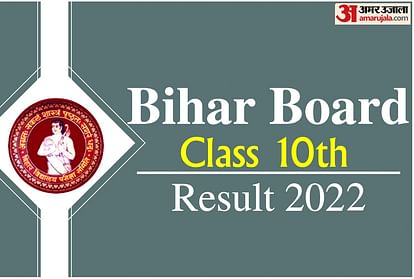 BSEB 10th Result 2022:
The Bihar School Examination Board (BSEB) has declared the BSEB 10th result 2022 today, on March 31 for the matriculation students who had appeared in the state board exams. Notably, the pass percentage for the current year stands at 79.88%. The results were announced at 3 pm in a press conference addressed by the Minister of Education of Bihar state, Vijay Kumar Choudhary. The results have also been released on the official websites of Bihar board; biharboardonline.bihar.gov.in and onlinebseb.in.
Also read:
BSEB 10th Result 2022 Declared, Pass Percentage Stands at 79.88%
BSEB 10th Result 2022: Toppers list and Result Statistics
As per result statistics, a total of 6, 08, 861 girls and 6, 78, 110 boys have passed the examination. 39 students have seized place in the Top 10 scorers, while 8 students have bagged position under Top 5.
Ramayani Roy, student of Patel High School, Daudnagar, has captured the top spot in Bihar Board Class 10 Exams 2022, by securing a percentage of 97.4%. The second position has been shared by Saniya from Navada and Vivek Kumar from Madhubani, who ended up obtaining 97.2%. Pragya Kumari from Aurangabad stood third with 97%. Nirjala Kumari has been declared fourth with a score of 96.8%.
The fifth position has three contenders, namely Anurag Kumar, Susan Kumar and Nikhil Kumar, who have logged a percentage of 96.6%.   
After the BSEB 10th result 2022 declaration, students must cross check all their personal details mentioned on the marksheet. The mark sheet contains important details of the students along with their scores, which include their name, parents' name, application number, subject name and other important details.
Also read:
Bihar Board 10th Result 2022 (OUT) LIVE Updates: Boys Surpassed Girls, 39 Students Clinched Top 10 Rank
BSEB 10th Result 2022: Subjects which students need to qualify
This year, the Bihar board has offered a number of relaxations to its students which include grace marks of up to 8 marks in case a student is on the brink of failing in a subject and changing the low-scoring subject with an elective subject. However, there are some such subjects in which no student shall fail, according to the rules issued by BSEB.
As per rules, matriculation students must qualify subjects such as English, Science, Social Science, Science practicals and internal assessments. In case a student fails in the aforementioned subjects, he/she will have to appear for the compartment exams which will be held by the board later.
BSEB 10th Result 2022: Passing marks
According to BSEB rules, students need to score a minimum of 33 percent marks in individual subjects to pass the paper. In case of subjects carrying internal/practical marks, the students are required to pass in theory and practical papers separately.
BSEB 10th Result 2022: Award for toppers
Those students who score the highest number of marks in Bihar board Class 10 exams will be awarded a cash prize of One lakh rupees along with a Kindle book reader.