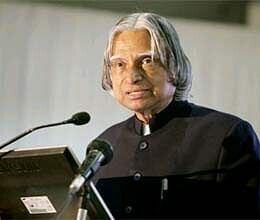 Former President A P J Abdul Kalam today suggested that specialists and researchers workout methodologies in consultation with psycho-oncologists to remedy the psychological distress needs of cancer patients.
International recommendation suggested that psychological distress needs to be recognised as the "sixth vital sign" and addressed as an integral part of mainstream cancer care, he said.
There are 18 lakh cancer patients in India at any given point of time and this translated into 7.2 lakh cancer patients requiring psycho-oncological care, which was not available at present in all the 20 cancer hospitals in India, he said.
Inaugurating the private Gem Cancer Research Centre and School Health Education Programme on cancer, Kalam, quoting a DRDO pilot study, said 40 per cent of cancer patients experienced moderate to severe psychological distress, which warranted professional psycho-oncological intervention.
For enabling early diagnosis of cancer cases, it was essential to increase availability of healthcare services, creation of awareness among the people, changing the attitudes of patients against stigma, myths and misconception, he said.
He said this could be effectively done by resorting to psycho-oncology. Cancer education literature needs to have psychological inputs to create effective and positive awareness about the disease so that individuals themselves can take certain precautions and prevent occurrence of the disease, Kalam added.