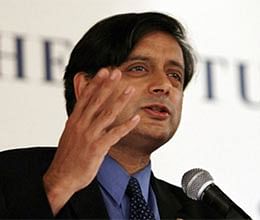 Strongly favouring the learning of English to succeed in the modern world, Union Minister of State for HRD Shashi Tharoor has said denial of opportunity to children to study the language would destroy their future.
If Keralites want to succeed in the modern world, they should learn English well, he told a two-day international conference on "Curricular Reforms and Classroom Practices in English" on Saturday. The event was organised by the State Institute of English and the Sarva Siksha Abhiyan at Mulamkunnathukav here.
"Denial of opportunity to learn English to our children would be tantamount to destroying their future," he said.
However, Tharoor said Malayalam should be the first language of Keralites and English the second language. Knowledge of English, he said, would be a passport to economic and educational advancement.
Congress MP, P C Chacko, was also present at the event.