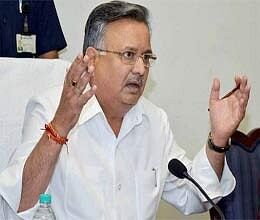 Chhattisgarh Chief Minister Raman Singh Wednesday said that education alone could defeat militancy in the state.
"Education and literacy have the power to defeat insurgency. I am delighted to know that educational facilities have increased in Sukma district during the past one year. We need to provide quality education in all areas of the district without taking too much time," the doctor-turned-politician Singh remarked at a well-attended public meeting in a stadium here.
Singh, who has been heading the BJP government in the mineral-rich state since late 2003, was in Sukma to join a road show and then a public meeting to mark the first anniversary of the creation of Sukma district.
The district, comprising three tehsils - Chhindgarh, Sukma and Konta - was carved out from Dantewada district Jan 16, 2012.
The poverty-hit Sukma, in the southern tip of the state, is considered India's worst leftist insurgency-hit district. Since the late 1980s, Maoists have been running a parallel government in interior areas of the district.