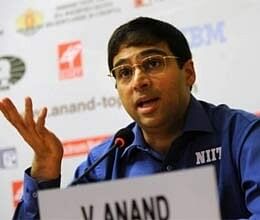 Chess is not only a game but a fun activity for schoolchildren as it inculcates useful skills for education as well as for life, chess wizard Viswanathan Anand said Thursday. "Playing chess enhances the memory, gives confidence, teaches problem solving, increases concentration...," the five-time world champion said after inaugurating an NIIT Mind Champions Academy at the Global Indian International School (GIIS) here.
"Chess teaches you that all moves have consequences," he said, adding this was a important lesson to learn for impressionable minds. Anand, who set up the academy in a venture with IT trainer NIIT, said the idea had come almost 12 years back after talking to world chess federation (FIDE) chief and then Kalmykia president, Kirsan Nikolayevich Ilyumzhinov, who told him how chess introduced in schools of his republic in Russia had led to a rise in the students' educational standards.
"We have seen the same results in India where the academy encompasses 17,000 schools and almost 17 million students all over India. A survey among 8,000 students and teachers showed the students have more confidence.. gave better answers. They showed better aptitude to tackle subjects like maths and physics," he said.
"Good mental training for studies, chess is not only an academic tool but fun as well," said Anand
Speaking on the occasion, Harish Doraiswamy, deputy CEO and COO of Global Schools Foundation (which runs the GIIS chain of 20 campuses in India and six other countries including Singapore, UAE and Japan), said Anand was a good role leader.
"Anand became the first Indian Grandmaster. Since then, there have been 28 more," he said, adding the attributes for a good chess player - persistence, practice, memory - are as important in education and life," he said.
GSF's country head, India, Rajeev Katyal said the aim of the chess centre, which will come up at other campuses too, was not to create chess champions but impart a way of thinking, problem solving, handling pressure and other life skills among the students.
However, any promising player would be encouraged, he added. "If we find someone who had potential, we will encourage them to go in for coaching," said Katyal.
GIIS Noida principal Punam Singhal said that students of Class 2 onwards would be encouraged to use the new facility. "We find it will be appropriate for students six years and above," she said.