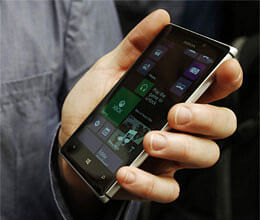 Finnish firm Nokia has launched its latest smartphone Lumia 925 with a new metal design and upgraded camera.The company chose London for the mystery unveiling and announced last evening their sleek new smartphone will go on sale in Europe at around 400 pounds in June.
Asked about India launch of Lumia 925, Jo Harlow, executive vice president of Nokia''s smart devices told newsmen "We will be making a further announcement in the near future." "India is an important market," she added.
Vesa Jutila, Head of Lumia Product Marketing Execution, Smart Devices at Nokia, described Lumia 925 and 928 as "flagship products" of the company.
He said, "India has been one of the big markets for us and we give high priority to it." The slimmed down version of the 920 Windows phone is lighter than its predecessor, and boasts a screen that can be read in bright sunlight.
Nokia is facing stiff competition from iOS and Android-based phones in smartphone category. According to research firm Gartner, Nokia''s Windows Phone sales have sequentially improved reaching a volume of 5.1 million units, but it was still at tenth slot in terms of market share in smartphone segment in the first quarter of 2013.
Harlow said, "We''re advancing experiences on the Nokia Lumia portfolio." Among the 925''s central features are its "smart camera" which is designed to capture 10 images at once to create the "perfect" high quality image. The function is to be extended to all Lumia Windows Phone 8 smartphones.