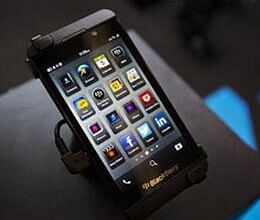 BlackBerry has started a month-long programme allowing users to trade their older mobiles for the newest model Z10 for hefty discounts of up to Rs 11,000 as the smartphone maker seeks to push sales.
"Customers across 17 cities will get discount of up to Rs 11,000 if they buy BlackBerry Z10 under this scheme. We have given reference rates to dealers for existing BlackBerry users willing to shift to BlackBerry Z10," BlackBerry India's Director for Channel Sales Prosenjit Sen told PTI.
Users of BlackBerry Bold 9900 can get discount of up to Rs 11,000 under this scheme while users of entry level models like BlackBerry Curve 8530 can get discount of Rs 3,000. BlackBerry Z10, full touch screen phone, is being sold in India on e-commerce websites in the range of Rs 37,500 to Rs 42,490. The phone has 1.5 Ghz dual core processor, 8 megapixel rear camera and 2 MP front camera.
The latest smartphone has helped revive sales of BlackBerry, a Canadian firm. Under the scheme, BlackBerry is offering credit card users option of balance payment through 9 monthly installments without any upfront cash payment, no interest and zero processing fee.
Sen said that the scheme is valid for users of other branded smartphones but the discount in that case will be on the discretion of retailer. "Our retailers will estimate the resale value of the phone brought for exchange and accordingly offer discount," Sen said. The scheme is available across 1,400 outlets in 17 cities including four metros, National Capital Region, Lucknow, Bangalore, Baroda and Chandigarh.