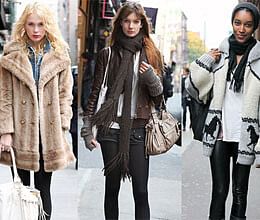 As winter knocks on the doors, stock up on a mix of clothes with Bohemian and hippie influences. From asymmetrical jackets, heavy knit mufflers, Grecian-draped knits to peplums and bejewelled headbands - get stylish this season.
Clothes, accessories and new styles - Indian designers suggest a range of options you could use to glam up both everyday life and the party.
"There are many trends and options for women this season, especially for those who like boho chic, floral and gothic looks. People can experiment with them in the most daring manner if they want to stand out, or wear them wisely to look stylish and cool," designer Pam Mehta told.
"But before you choose your clothes, it is important that people identify their strongest body feature and then highlight it with the right attire. Also, it would do great if you learn the tricks to conceal your problem areas with smart layering," says designer Aniket Satam.
"Layering is the key to keep you warm yet chic this winter. Don't simply pile on clothes. Rather invest in smart winter separates, which you can layer to create unique style lines," Satam told.
Some trends in vogue this season are the peplum or fit-and-flare skirts in dense palette like burgundy, sapphire and teal, which add warmth to the eye. One can team them with dainty flimsy georgette lady-like blouses with retro prints.
The faux fur look continues its successful run this year too.
"The leather with fur trimmings, fake fur vests, jackets, boleros, scarves with fake fur trimmings are all in vogue. Also skinny jeans and tights tucked into boots enhance the chic woman in you," said designer Pria Kataria Puri.
For those who like it simple, vibrant coloured knits and chunky knit scarves are a stylish option when teamed with V-neck sweaters, buttoned sweaters and fitted dresses, which are here to stay, Puri said.
Also formal coats with jeans for a semi-formal look and full-length dresses with waistcoats are good for girls.
Fabrics like Cashmere, silk wool, wool crepe, fake fur and stretch denim work best in winter.
What about colours?
"Always pick accent colours for day wear. Evening wear should be sported with deeper blacks, browns and tans. Hues like orange, aubergine, burgundy, purple, teal blue and indigo in fabrics like silk dupion, organza can work wonders," said Pam Mehta.
Accessories can also play a significant role in winter styling.
"Nothing beats the trend of chic cocktail bejewelled hairbands which instantly glamourise any ensemble. Textured stoles in crush silk, handloom scarfs, heavy knit mufflers add character to one's dressing. Try mixing and matching chunky handmade costume jewellery for a dressier appeal," said Satam.
So, hit the markets and start stocking up!