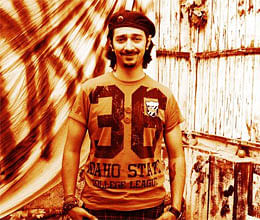 His claim to fame is his quirky designs and ready to wear affordable western clothes. And now designer Nitin Bal Chauhan has been invited to share designing tips with students of a French design school.
Lisaa School of Design, recognised by the Ministry of Education and Culture in France, turns two.
To celebrate their second anniversary, they have come up with the event Lisaa 2.0 that will take place May 1 at the The Courtyard, The Crescent at the Qutub.
Chauhan's latest collection Like a Rolling Stone, made under his label Bhootsavar, will be unveiled there. He will also tell the students how to gain a broader perspective on the integration of various fields of design, said a statement
"At Lisaa we recognise the talents of young designers like Nitin Bal Chauhan, and by giving him a platform to express his collection we are encouraging our design students to be passionate and obsessive about design...," said Laurent Guichoux, education director, Lisaa School of Design.
Lisaa School of Design established its first institute in 2011 in Gurgaon, followed by a new branch in Bangalore in March this year.