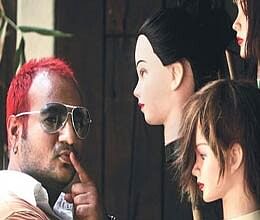 Now watch Bollywood celebrities Ranbir Kapoor, Ajay Devgn, Hrithik Roshan, Saif Ali Khan and Shahid Kapoor getting a whole new look by celebrity hair-stylist Aalim Hakim in a new TV show, dedicated to hair-styling trends. Style Inc. with Aalim Hakim, to be aired on TLC starting March 10,promises to bring the glamorous styling trends of some of the country's best-looking film stars.
Apart from celebrities, each episode will also see one lucky person get a makeover by Hakim, whose regular clientele includes Sanjay Dutt and Bipasha Basu.
"I am excited to be part of 'Style Inc. with Aalim Hakim'. It is an extension of what I love to do - makeover personalities. The series captures how the art of hairstyling not only can create the picture-perfect look for Bollywood stars, but also on transforming ordinary people," said Hakim, the host of the show.
The channel is hoping to draw a young audience, especially the fashion conscious ones, with the show.
"Makeover is an emerging trend in India that has been identified by us and we are delighted to present an exciting new series with Aalim Hakim," said Rahul Johri, senior vice president and general manager - South Asia, Discovery Networks Asia-Pacific.