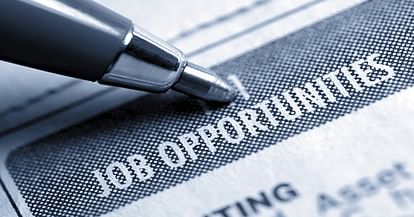 The Indira Gandhi National Open University, School of Sciences, Faculty of Mathematics, is hiring Consultants.
Applications are invited from eligible candidates for four posts (Full-time/Part-time, contractual) of consultants in the Discipline of Mathematics, one in each of the following areas: 
1. Image Processing and Pattern Recognition 
2. Computer Graphics 
3. Design and Analysis of Algorithms 
4. Coding Theory 
The last date for application is August 16, 2018. 
Job Profile
The nature of work would involve activities pertaining to the development of course material in Mathematics discipline offered by the University. The job would include writing/transforming units and other material related to the course concerned.
How to apply? 
Interested candidates may send their applications along with a copy of Curriculum Vitae, including the list of publications and teaching experience in the relevant area, along with self-attested copies of mark sheets, degree certificates and experience certificates, to the following address: 
Director School of Sciences (SOS) Raman Bhawan, 
Academic Complex
 Indira Gandhi National Open University
Maidan Garhi, New Delhi – 110068
In case you need any clarification, write to pmital@ignou.ac.in or svenkat@ignou.ac.in
Qualification and experience
1. M.Tech in Computer Science/Electrical Engineering or Ph.D. in Mathematics/ Computer Science (with specialization in area concerned)
 2. Minimum three years experience of research/teaching/industry in the area concerned.
Salary 
Full-time 
Rs. 50,000 to Rs. 70,000 
Part-time
Rs. 25,000 to Rs. 35,000 
About IGNOU Campus Placement Cell 
The mission of the IGNOU Campus Placement Cell is to enhance and facilitate the process of gainful employment for its divergent and distributive learner population for entry-level jobs as well as mid-career level employment opportunities, matching and commensurate with their personal and academic profiles. In the present day business scenario, companies demand job-ready candidates for employment at the shortest possible time period.
The cell conducts on-campus and off-campus placement and employability enhancement activities at the headquarters and at some Regional Centres.
The CPC will be operationalizing placement cells at 6 Regional Centres of IGNOU that have very large IGNOU alumni in order to reach out to the dispersed IGNOU alumni more effectively.
Regional Centres, the sub-office of the University for all practical purposes, are also intended to act as resource centres of the University in respective regions. Regional Centres are centres for training coordinators/ counselors/other functionaries and would provide a venue for the students and the academic counselors to express their responses with reference to a particular subject. 
Notes:
1. The posts are purely contractual and persons selected will have no right whatsoever for absorption/regularization in the University. 
2. Only short-listed candidates will be invited for interview. No TA/DA will be paid for appearing in the interview. 
3. Please ensure that your application reaches us on or before August 16, 2018.
Notified: 
http://ignou.ac.in/userfiles/consultant-reqruitment-readvertisement.pdf