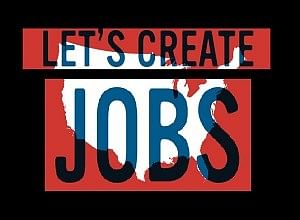 New technology is not causing job loss but is rather creating more jobs, Union IT Minister Ravi Shankar Prasad said recently.
"I don't buy this logic of job loss. Why do I say? If a new technology displaces one job, it creates 20 more jobs. That is what I am saying with my experience," Prasad said after unveiling the Goa IT Policy 2018.
"In the IT industry, close to 40 lakh people work directly and if you see indirectly it is about 1.25 crore people who are employed in it," the minister said while addressing the Goa IT Day event in the presence of Chief Minister Manohar Parrikar.
He cited a NASSCOM report to state that around six lakh jobs are getting created only in the conventional IT industry.
He expressed confidence that the new digital eco-system will only create jobs.
"The whole world is looking at India with a hope. There I got to salute extraordinary potential of Indian IT giants," he said.
Speaking about the IT revolution, Prasad said that 91 BPOs are now operating in 27 cities since the Union government came up with a scheme for BPOs in rural areas in 2015.
"Whenever I visit them, I see boys from the rural area are working in this BPOs," he said.
Recalling his conversation with Prime Minister Narendra Modi, Prasad said, "One day PM asked me: 'there are so many mobiles in the country but how many of them are actually manufactured in India'? After that, I found that there were only two mobile manufacturing factories in the country".
Presently, there are 120 factories manufacturing mobile phones in the country, the minister said.
"Only a fortnight ago, the prime minister launched the expanded capacity of Samsung at Noida. In all, 1.10 crore mobile phones would be manufactured every month in that factory," he said.
Prasad said manufacturing of mobile phones has risen to almost 20 crore handsets per annum.
"The revenue has also gone up to Rs 1,32,000 crore," he added.
He said the country would become a leader not only in the field of the mobile electronics but also in areas like defence electronics and medical electronics.
Prasad said Goa can become the hub of electronic manufacturing industries.
"Goa, because of the exotic location and soft power, can become a good centre of electronic manufacturing. In mobile manufacturing alone five lakh people are working in India. I will be the happiest (person) if Goa becomes a hub of electronic manufacturing," he said.
Prasad said the number of downloads of BHIM (Bharat Interface for money) mobile application went up to three lakh per day in April this year compared to 4,000 downloads when the app was launched on November 8, 2016.
The minister said the quantum of transactions through BHIM App increased to Rs 24,117 crore in March this year from Rs 5,325 crore in September 2017.
The Goa Cabinet had last week approved Information Technology policy 2018 which focuses on reverse migration and creation of around 10,000 jobs in the next five year.