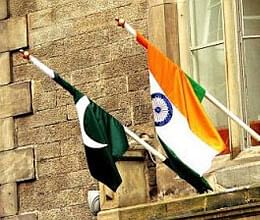 In a bid to foster friendship and change mindsets, the third round of the student exchange programme between India and Pakistan was launched here Wednesday.
This is a joint initiative of Delhi-based NGO Routes 2 Roots and Pakistani NGO Citizens Archive of Pakistan (CAP).
The first round of the 14-month programme was held between 2010-12 and the second in 2012-13.
"School students between the ages of 10 to 14 years are made aware of the cultures, similarities and diversities between the two countries to encourage sustainable relationship among the children for a peaceful tomorrow," said Anushree Gupta, project director of Routes 2 Roots.
"Students exchange letters, charts, posters, postcards and sharing histories as heard from their elders, before visiting each other," she said.
Speaking after launching the third phase of the programme, Law Minister Kapil Sibal said: "Our two countries share almost everything, be it cuisine, culture, monuments, history."
Pakistan High Commissioner Salman Bashir said he had hosted Pakistani children who visited India last time, and was pleased to be involved with the programme.