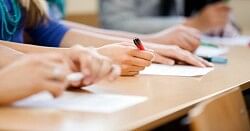 The
Union Public Service Commission
(
UPSC
) has released the time table for
Civil Services (main) Examination, 2017.
While the examination will start from October 28 and continue till November 2, 2017, the result of the preliminary exam was published on July 27.
Click below for the exam schedule:
Time Table for Civil Services (main) Examination, 2017
About UPSC
Under Article 320 of the Constitution of India, the Commission is, inter-alia, required to be consulted on all matters relating to recruitment to civil services and posts. The functions of the Commission under Article 320 of the Constitution are:
Conduct examinations for appointment to the services of the Union.
Direct recruitment by selection through interviews.
Appointment of officers on promotion / deputation / absorption.
Framing and amendment of Recruitment Rules for various services and posts under the Government.
Disciplinary cases relating to different Civil Services.
Advising the Government on any matter referred to the Commission by the President of India.
Note:
The e-admit card will be uploaded on the website for the eligible candidates around two weeks before the commencement of the examination.