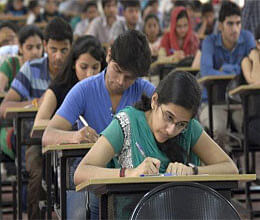 With a view to effectively check copying in UP secondary education board examination in the state, Uttar Pradesh government would install CCTV cameras at all the examination centres and government colleges.
The Secondary Eduation Minister Mehboob Ali, in a meeting with senior officials of his department including district inspectors of schools and others yesterday, instructed that copying should not be allowed at any cost in the coming examinations of the UP Board.
"To put a check on copying, CCTV cameras should be installed at the examination centres and government schools", the minister told officials.
The minister also instructed the officials not to make centres in schools where copying had been reported in the past years.
Ali directed an inquiry into reports of textbooks not being provided to students of government schools in time and taking action against the publishers responsible for the same.
The minister directed the officials to complete within a month the process of 'Kanya Vidhya Dhan' scheme and laptop distribution for 2013-2014 in the districts where it has not been done yet.