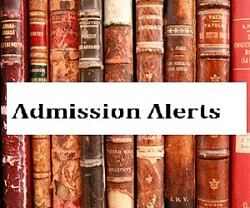 The Registration for Entrance Test in the Five years integrated course in Journalism closes on September 8, 2017 at night.
2500 hundred students have registered for the course till now.
The Entrance test will be Multiple Choice Questions (MCQ) consisting of 100 questions of four marks each.
Negative marking of one mark for every wrong answer will be carried out.
The Entrance Test is scheduled to be held on September 17, 2017 in 10 cities all over India.
The test will be held for English and Hindi mediums separately on the same day.
English Medium Test -9 am-11 am and Hindi Medium 2 pm-4 pm.