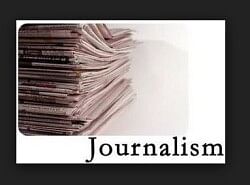 The University is gearing up to start the Five years Integrated Course in Journalism -Bachelor of Journalism (BJ) Master of Journalism (MJ).
The programme will be taught in two mediums i.e. offering instructions in both English and Hindi as applicable.
The programme includes teaching of four foreign languages (French, Spanish, Chinese and Arabic) and two regional languages (Tamil and Bengali) in ten semesters (A student is to select one foreign language and one regional language).
The syllabus is designed as per the CBCS scheme.
The Five Year Integrated Program has 28 Core Courses, two Ability Enhancement Compulsory Courses, two Ability Enhancement Elective Courses (skill based), four General Elective Courses and four Discipline Specific Elective Courses and Dissertation as per the UGC guidelines.
The course is designed with equal weightage on Classroom Lectures (50% Credits) and Assignments/Projects and Internship (50% Credits).
Students need to produce Newsletters and Documentaries, Broadcast News Bulletins, and Multimedia Contents of broadcast standards.
The learning process will be adequately supported by a state of the art media lab cum studio.
Admission Requirements and Procedure:
1. Students shall be admitted to this course, through a national level written entrance test conducted by the University of Delhi.
2. Students who secure 50% in Class XII (irrespective of the streams) will be eligible to apply for the entrance test.
3. The entrance test will examine the candidate's proficiency in General Knowledge and Current Affairs, and Analytical and Comprehension Skills. The entrance test will be designed with the comparable standard of competitive exams at the national level for Class XII students.
4. The admission will be based on an Entrance Test.
5. Reservation and other exemptions are applicable as per the Delhi University rules.
If there are vacant seats after three years (i.e. the exit point for students, who wish to leave with Degree of Bachelor of Journalism), new students will be allowed to apply for an entrance test for the Post Graduation course.
The eligibility requirement for the Post-Graduate entrance test is Bachelor's Degree from a recognized University. Total seats in the course are 60 in English and 60 in Hindi.
Notification and Online Registration
will start from August 23, 2017 to September 8, 2017.
Entrance Test
will be on September 17, 2017 (9 am to 11 am–English; 2 pm to 4 pm- Hindi)
The
classes will commence
from September 26, 2017
Entrance Registration fee-
GEN/OBC- Rs.500
SC/ST/PwD- Rs.250
The course will be housed in CIC Building in the Sports Complex of North Campus.
Related Articles

on Admission Diary