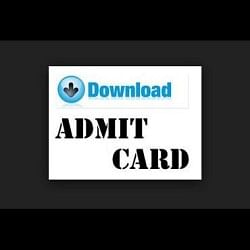 Admit card for the
Rajasthan Lower Division Clerk (LDC)
and
Junior Assistant
can be found at the official website of
Rajasthan Subordinate and Ministerial Services and Selection Board (RSMSSB).
While the exam was held on August 12 and 19, candidates can download the admit card online. 
How to download Rajasthan Junior Assistant/ LDC Admit Card 2018?
Step 1: Visit rsmssb.rajasthan.gov.in.
Step 2: Click on the 'Rajasthan Junior Assistant/ LDC Admit Card 2018' option.  
Step 3: Enter the required information.
Step 4: The admit card will pop up on the computer screen. 
Highlights 
The admit card for the Rajasthan Lower Division Clerk (LDC) and Junior Assistant released. 
The exam will be held in two shifts- from 8 AM to 11 AM and 2 PM to 5 PM.
The next exam will be conducted on September 9 and 16.
RSMSSB Junior Assistant Exam Syllabus 2018
General Knowledge
General Science, Abbreviations, Science & Technology, Indian Constitution, Countries, Capitals & Currencies, Books & Authors, Indian Polity, Indian Geography, Current Affairs – National & International, Indian Culture & Heritage, History – India, Indian Economy, 
 Mathematics
Compound interest, Square root, Ratio-proportion, Multiplication factors, 
Cartesian coordinates, Simple interest, Equations, 
Cubic origin (up to 6-digit numbers) by the Vedic method Factors, Profit-loss
Similar Triangles, Logarithm, Angle and lines formed at a point, Quadratic equation, Discount
Percentage, Volume, Linear equations with two variables, Simple linear shapes
RSMSSB Syllabus for JA, LDC 
General Science
Oxidation and reduction reactions
Chloro-Fluoro Carbon or Freons
Blood transfusion
Physical & Chemical Charges
Allotropes of carbon
Electric cell
Malnutrition and human health
Catalysts
Polymers
Compressed Natural Gas
Electric generator, Biotechnology General information
Transgenic organisms, Reflection of light and its laws,
Faraday's law of electromagnetic induction, Hydrocarbons
Structure of ecosystems, Ohm's Law, Dispersion of Light
Pathogens and human health, Development of new plant varieties
Electric current, Biotic factors of ecosystem, The energy flow of ecosystem
Environmental Study, Biogeochemical cycles
Rajasthan SMSSB JA Syllabus
General English
Transformation of Sentences: Assertive to Negative, 
Use of Articles and Determiners, Use of Prepositions,
Interrogative, Exclamatory and vice versa, One word Substitution
Glossary of Official, Technical Terms (with their Hindi Versions)
Tenses/ Sequence of Tenses, Voice: Active and Passive, Translation of Simple (Ordinary/ Common),  Sentences from Hindi to English and Vice Versa
Confusable words, Synonyms, Forming new words by using prefixes and suffixes, 
Adjectives, Connections and words wrongly used, 
Knowledge of writing letters: Official, Demi Official, Circulars and Notices, Tenders, Narration: Direct and Indirect
Antonyms, Comprehension of a given passage
Name of Organization: Rajasthan Subordinate & Ministerial Service Selection Board (RSMSSB)
Vacancy Name : Lower Division Clerk/ Junior Assistant, Clerk Gr-I & II
Total Posts : 11255 Posts
Name of Exam : RSMSSB LDC / Junior Assistant & Clerk Grade-II Exam 2018
RSMSSB LDC Syllabus 2018 Status : Available Here
Mode of Examination : Written Test & Typing Test
Selection process
The selection process as follows: 
Written Exam (Offline Mode)
Document Verification (DV) or Personal Interview (PI)
Eligibility Criteria 
Age Limit 
1. The age limit of Candidate should be Minimum 18 years and Maximum 40 years.
2. Age Relaxation: – SC/ ST /OBC/PWD/ PH Candidates Relaxation as per on Government Rule Regulation.
Nationality 
The candidate should be Indian.
Apart from this Nepal, Bhutan, Shrilanka candidates can also apply for this job provided they have a certificate authorized by government of India.
(i) Senior Secondary from a recognized Board or its equivalent Examination.
AND
(ii) "0" or Higher Level certificate course conducted by DOEACC under control of the Department of Electronics, Government of India.
OR
Certificate course on computer concept by NIELIT, New Delhi
OR
Computer operator & Programming Assistant (COPA)/Data Preparation and computer software (DPCS) certificate organized under Nationall State councilor Vocational Training Scheme.
OR
Degree/ Diploma/Certificate in Computer Science / Computer application from a university established by law in India or from an institution recognized by the Government.
OR
Senior Secondary Certificate from a recognized Board of Secondary Education in the Country, with the Computer Science/ Computer Application as one of the subjects.
OR
Diploma in Computer Science & Engineering from a polytechnic institution recognized by the Government
OR
Rajasthan State Certificate Course in Information Technology (RSCIT) conducted by Vardhaman Mahaveer Open University, Kota under control of Rajasthan Knowledge Corporation Limited".
(iii) Candidates should have knowledge of Devnagari Script and Rajasthani Sanskriti.  
Related Articles

on Exam Alerts