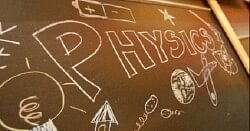 Scoring good marks in Physics is not an easy task. But don't think it's not possible. Yes, you can also clear the exam if you follow the crucial tips below. 
Devise a schedule and implement 
A well-planned study plan is the first thing you should do. Making the plan alone will not help unless you follow it to your best. This plan will help you allocating your time to various subjects and you will know exactly at what time, what are you expected to study.
Know Focus Areas
Must mugging up books is not going to solve the purpose. You must know which chapters and topics to focus on. The syllabus of the exam is very wide so it is not possible to learn everything hence you must focus on the important topics. 
Find out your weak areas
It is not wise to overlook the subject you are weak in. You will be able to qualify the exam in first attempt only if you have a hold on all the subjects. Hence, you must identify your weaker section and work on it. 
Highlights 
Question paper pattern: 
The question paper has four parts. 
First Part - Six questions of two marks each
Second Part - Six questions of three marks each
Fourth Part – Five questions of four marks each
Fifth Part - Five questions of five marks each  
Important Dates
UP Board Class XII Physics Paper I: February 15, 2018
UP Board Class XII Physics Paper II: February 17, 2018