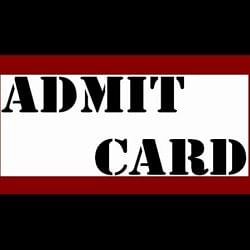 The All India Management Association (AIMA) will conduct the Management Aptitude Test (MAT) on September 2, 2018. 
The association has released the MAT September 2018 Admit Card on Saturday, August 25, 2018.
"Online Registration for PBT scheduled on 02 Sep 2018 has been extended upto 27th Aug 2018," read a notification on the official website. 
However, candidates can download their admit card online. 
Simple steps to download admit card as follows: 
Step 1: Visit mat.aima.in. 
Step 2: Go to the Download section.
Step 3: Click on the MAT Admit Card option.
Step 4: Enter the required information.
Step 5: The admit card will pop up on the computer screen. 
Eligibility 
Candidates should have completed graduation any discipline. Final year students can also apply.
MODE OF TEST
(How to take the Test)
Candidate can take MAT as
(i) Paper Based Test (PBT) or
(ii) Computer Based Test (CBT) or
(iii) Both PBT and CBT
Note:
Candidate can opt for both the tests i.e. PBT and CBT by paying an extra fee of Rs 1100/- in addition to Rs 1550/-.
Candidates opting for both PBT and CBT will have the benefit of selecting additional two Management Institutions for sending their scores in addition to the existing option of selecting five Management Institutions i.e. they can select seven Management Institutions in total.
MAT syllabus
Indian and Global Environment Section
This section is unique to MAT exam. It's mostly about current affairs and latest new:
Current affairs
Business
World Records
Top officials of big companies
Famous awards and Prizes
Books and Authors
Punch line of companies
History
International Organisation
Important Quotations
Social issues
Geography
Sports
Finance
Major Corporate news
Automobiles
Entertainment
Politics
Science
Data Analysis and Sufficiency / Mathematical Skills
Core topics in DA are:
Geometry, (Lines, angles, Triangles, Spheres, Rectangles, Cube, Cone etc)
Ratios and Proportion
Number system
Work and time
HCF & LCM
Algebra
Profit & Loss
In-equations Quadratic and linear equations
Geometric Progression
Percentages
Averages
Partnership (Accounts)
Time-Speed-Distance
Language Comprehension
Verbal ability is an important part of every MBA exam. Here are the core topics for MAT verbal section:
Verbal Reasoning
Syllogisms
Fill In the Blanks
Contextual usage
Analogies
Different usage of same word
Antonyms
Sentence completion
Jumbled paragraphs
Foreign language words used in English
Sentence correction
Idioms
One word substitution
Intelligence and Critical Reasoning
Prepare the following subjects under CR:
Family tree
Strong Arguments and Weak Arguments
Multi-dimensional arrangements
Course of Action
Puzzles
Visual reasoning
Arrangement
Series
Numeric grid
Pie Chart
Blood Relations
Critical Reasoning
Calendars
Coding & Decoding
Syllogisms
Statement Conclusions
Column graphs
Graphs representing Area
Highlights 
AIMA has released the MAT September 2018 Admit Card. 
AIMA will conduct MAT on September 2, 2018.
Candidates should have completed graduation any discipline. 
Final year students can also apply.