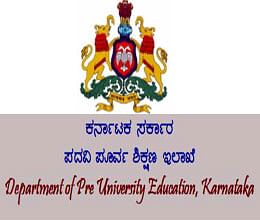 In not so good news for students of the Department of Pre University Education, Karnataka, the board has cancelled its second year PUC chemistry paper. The second year PUC chemistry paper in the new syllabus has been cancelled due to leakage of question papers, the Department of Pre University Education said issuing a statement.




Issuing a statement on Board's official website it said that the Chemistry paper (Subject Code 34) being conducted on March 21 has been cancelled. Those students who wrote their paper will have to again appaer in the exam that will be conducted afresh by Board. The department said in a release that the date of re-examination would be communicated in due course.


A comprehensive investigation was on to identify the source of the leakage and a complaint had been filed with police. As a preliminary step to conduct a fair and impartial enquiry, the Chief Superintendents and Joint Chief Superintendents, entrusted with supervision of conducting the exam at SASM PU College for women, Gandhinagar, Bellary and Government PU College, Malur in Kolar district, were suspended with immediate effect.


Alternate arrangements have been made in these centres to conduct the examination from tomorrow, it added.


The Department of Pre-University, Government of Karnataka is the organization for implementation of higher secondary education in the state. We function under the Department of Primary & Secondary Education. After X standard every year about 10 lakhs students enroll in the 2 year Pre-university courses.