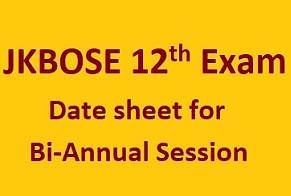 The 12th Bi-Annual Exam 2019 Date sheet for Jammu Division has been released by the Jammu and Kashmir Board of School Education (JKBOSE). The Date sheet is available on the official website of JKBOSE: jkbose.ac.in.
The exam will begin on July 6 and will end on July 29, 2019.
The faculty of Home Science's will end on July 22, 2019, exams for commerce will end on July 25, 2019. Whereas the exams of Science and arts will end on July 29, 2019.
The Date Sheet includes some instructions such as:
1) The aforementioned date sheet shall be applicable for eligible candidates for the said exam, as per BOSE norms
2) The examinees are advised to adhere the instructions strictly given on the back side of the admit card to be issued to them in due course of time, and bring the same (admit card) on all days of exam for verification.
3) The practical exam in all the concerned subjects shall start wef August 2, 2019. The examinees shall contact respectively Head of the institutions/ concerned BOSE office in this regard.
4) All head of govt/Private institutions of Jammu province (Summer Zone areas) shall collect the Admit Cards from the concerned BOSE Office wef July 2, 2019.
5) All the examinees are advised not to bring any kind of material including electronic gadgets like mobile phone, headphone etc. which can help them to indulge in unfair means in any way in the exam.  
| | | | | |
| --- | --- | --- | --- | --- |
| Date | Faculty of Science | Faculty of Arts | Faculty of Commerce | Faculty of Home Science |
| July 6, 2019 | Geology, Biotechnology, Microbiology, Biochemistry | Arabic, Sanskrit, Persian, Economics | Entrepreneurship, Economics | Human Development |
| July 9, 2019 | General English | General English | General English | General English |
| July 12, 2019 | Computer Science, Informatics Practices, Environmental Science, Functional English, Physical Education, Islamic Studies, Vedic Studies, Buddhist Studies, Electronics | Computer Science, Informatics Practices, Environmental Science, Functional English, Physical Education, Islamic Studies, Vedic Studies, Buddhist Studies, Travel, Tourism and Hotel Management, English Literature | Computer Science, Informatics Practices, Environmental Science, Functional English, Physical Education, Islamic Studies, Vedic Studies, Budhist Studies, Travel, Tourism and Hotel Management | Computer Science, Informatics Practices, Environmental Science, Functional English, Physical Education, Islamic Studies, Vedic Studies, Budhist Studies, Travel, Tourism and Hotel Management |
| July 15, 2019 | Chemistry | Home Science (Elective), History, Public Administration | Business Mathematics, Public Administration |  -  |
| July 18, 2019 | Geography | Psychology, Geography, Music, Philosophy, Education |  -  | Clothing for the family |
| July 22, 2019 | Physics | Urdu, Hindi, Kashmiri, Dogri, Punjabi, Bhoti | Accountancy | Extension Education |
| July 25, 2019 | Biology (Botany & Zoology), Statistics | Political Science, Statistics | Business Studies |  -  |
| July 29, 2019 | Mathematics, Applied Mathematics | Sociology, Mathematics, Applied Mathematics |  -  | -  |
Related Articles

on Exam Alerts