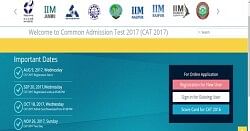 Indian Institutes of Management (IIM) Lucknow has released a notification mentioning date of computer-based
Common Admission Test 2017 (CAT 2017)
for admission to IIMs across the country. The notification pointed out that the IIMs will conduct computer-based
CAT 2017
on November 26.
While the registration will start from August 9, students should visit CAT's official website for latest updates.
"The Indian Institutes of Management will conduct computer-based Common Admission Test 2017 (CAT 2017) on Sunday, 26th November, 2017 in two sessions," read the notification on www.iimcat.ac.in.
Importany Dates:
Registration Starts on August 9, 2017.
Registration ends on September 20, 2017,Wednesday at 05:00 PM
CAT 2017 Admit Card to be available on October 18, 2017, Wednesday 01:00 PM
CAT 2017 Exam: November 26, 2017, Sunday
Note:
Detailed information on CAT 2017 is available on www.iimcat.ac.in.